"World Micro's"
[ W o r l d    M i c r o' s ]
[ 

A  look  into  micro – cars 

 from  around  the  world  –  e n j o y

 !!

 ]
From  Argentina     to  Yugoslavia !!
A microcar is often defined as being a vehicle with either 3 or 4 wheels of up to 700cc powered by either a petrol engine or battery electric.  In America ( US )however it is defined as being of 1000cc or less !!
#########################
  

t

o

.

.

.
.

.

.  

A r g e n t i n a

      (
アルゼンチン

)

(1959) De Carlo 200 

#########################
.

.

.  

A u s t r a l i a  

    (
オーストラリア

)

(1959-61) Goggomobil Dart (400cc) 
(1963-66) Zeta Sedan/sports/utility (493cc) 
#########################
.

.

.  A u s t r i a      (
オーストリア

)

(1952-54) Felber Autoroller T400/Möve (398cc) 
(1959-74) Haflinger LUV/Jeep (643cc) 
(1952-54) Libelle (199cc) 
#########################
.

.

.  C z e c h o s l o v a k i a      (
チェコスロバキア

)

(1946-52) Aero Minor/estate/sports (615cc) 
(1950- 71) Velorex 16/435 (175/350cc) 
.

.

.  

England

    (
イギリス

)
[ P A R T  1 ]
(1953-58) AC Petite/Invacar (175/346cc) 
(1953-55) Allard  Clipper (Villiers 346cc)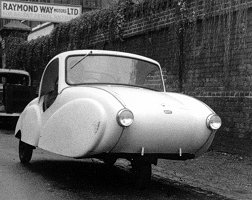 (1954-1959) Astra Little Horse Utility (Anzani 322cc) 
(1956-60) Berkeley Sports/T60 (322/328/492/692cc) 
[ P A R T  2 ]
(1949-66) Bond Minicar (Villiers 122/247cc) 
(1958-60) BSA Ladybird (Sunbeam 250cc) 
(1961-69) Colliday Chariot 50/Commuter 350 (BSA 49/348cc) 
(1947-51) Cooper 500 (JAP/Triumph 500cc) 
[ P A R T  3 ]
(1947-51) Coronet (British Azani 328cc) 
(1952-54) EEC Workers Playtime (Excelsior 250cc) 
(1954-56) Fairthorpe Atom & Atomota 
(1957-64) Frisky Prince & Sport (328cc) 
[ P A R T  4 ]
(1958-60) Gill Getabout (British Anzani 322cc) 
(1955) JARC Motors "Little Horse" (Excelsior 250cc) 
(1956-59) Opperman Unicar (Excelsior 328cc)  
(1955-57) Powerdrive (Anzani 322cc) 
( m o r e   t o   f o l l o w  .  .  .  !! )
***** (終) *****