"The 'A' List (Part One)"
***** (K|C|F) *****
  [ 

Kei-cars of the 20th Century

 ]
T H E       Part  One
(The Minor Players)
#########
(In Alphabetical Order :  Auto Sandal – Mitsuoka)
The Makes

:  Auto Sandal;  

Autozam

;  Baby Condor;  

Cony

;  Daihatsu;  

Datsun

;  Dynastar;  

Fuji Cabin

;  Gasuden;  

Giant

;  Hope Star;  

Iso Isetta

;  Kokuei;  

Komatsu Nōminsha

;  Kunomack;  

Kurogane Baby

;  

Mitsuoka

.

#######
* * * AUTO  SANDAL    (
オート·サンダル

) Auto Sandal * * *
[ 

Nakano Automobile Kogyo Co.Ltd.

 ]
Mr Nakano (above) the company founder is pictured with the first prototype.
(1952) 349cc FN, FS & FN-L: 
 (1954) 238cc Roly: 
The Auto Sandal:    (friction drive)
Sandal refers to a type of shoe or flip-flop.  All 3 of the last remaining Auto Sandal cars are in working order and are in Kurume, Japan in the 'Sepia Collection' of Mr Hideki Matsuzaki.
#######
* * *

   AUTOZAM (
アウトザム

) Autozam  
* * *
[ 

Mazda Motor Corporation

 ]
The Autozam marque specialised in small cars and kei-cars with many models being re-badged Suzuki's.
 (1990-94) 'Carol is a rebadged Suzuki Alto' 
 (1990-94) 'Scrum is  a rebadged Suzuki Carry' 
 (1992-95) 'AZ-1 mid-engined sports coupé' 
An offshoot of the giant Mazda Corporation, Autozam was formed in the late 1980's and ended in the mid 1990's due to adverse economic conditions.
#######
* * *

 B A B Y   C O N D O R (

ベビー·コンドル

) Baby Condor 

* * *
The 1956 Baby Condor is a chain driven 2-seater microcar coupé.  The left-hand-drive coupé bodywork was made of fibreglass reinforced plastic (FRP).
#######
* * *   (
コ二―

)  Cony * * *
[ Aichi Machine Industry co.ltd.]
(1955) Cony AA-25F: 
 & the (1956) Cony AA27: 
(1960) Cony 360 AF3 'Giant': 
(1961) Cony 360 AF11 Truck & Van: 
(1961) Cony 360 Wagon & Light Van: 
(1962) Guppy AE82 Pickup & Coupé: 
(1962) Cony AF8 pickup: 
 Coach & Van: 
The Cony company was founded in 1943 and in 1965 it became part of the Nissan group.  Initial production was of 3-wheeler trucks.
#######
* * *

    DAIHATSU (
ダイハツ

) Daihatsu   
* * *
[ Daihatsu Motor Co. Ltd. ]
Daihatsu is the oldest Japanese car manufacturer, mostly known for its range of smaller models and off-road vehicles and its earlier 3-wheelers.
(1951) Daihatsu Bee (ダイハツ·ビー): 
 (About 300 were made)
The Daihatsu Bee was classed as a 2-door coupé, rear-engined, rear-wheel-drive, microcar.  Power was provided by the 540cc OHV air-cooled 2-cylinder 4-stroke H2 petrol engine.  It was the first car in Japan with a horizontally opposed engine and was adapted from one of Daihatsu's 3-wheeled delivery trucks.
(1957-72) Daihatsu Midget (1st Generation): 
 (3-wheeler)
#######
* * * DATSUN (
ダットサン

)  Datsun 
* * *
[ 

Kaishinsha Motor Works

 ]
Datsun founder:    'Den Kenjiro'
The Kaishinsha Motorcar Works was founded in 1914, and made the first cars using the Datsun name.  The 'D' in the company acronym 'DAT' was from 'Den' after one of the founders  Den Kenjiro and was later changed to 'Datsun'.
 (1965) Datsun Baby 200cc Coupé 
The Datson company was acquired by the Nissan zaibatsu (financial conglomerate) in the 1930's.
#######
* * * D Y N A S T A R    (
ダイナスター

)  Dynastar * * *
[ 

Ōmyiya Fuji Sangyō Co. Ltd.

 ]
(1953) Dynastar T7 SV single 198cc: 
 (1954): 
#######
* * *  FUJI  CABIN (
フジ·カビン

) Fuji Cabin 
* * *
[ 

Fuji Motor Corporation

 ]
Only 85 Fuji Cabins were built between 1954 & 1955, with only 2 or 3 surviving today.
 (1955) Fuji Cabin 5A (a.k.a. Metro 125) 
The Fuji Cabin is more like a scooter with a roof than a car.  It has an aeroplane-like steering wheel, and only one headlight.  In America, a Fuji Cabin sold at auction for $110,000 (not even a runner !!).
#######
* * * G A S U D E N    (
ガスデン

)  Gasuden * * *
[ 

Fuji Motor Corporation

 ]
 (1961) 'Gasuden Minivan (ミニバン) M60' 
The Fuji Motor Co. entered the 'Gasuden Minivan 360 M36' at the 1961 Tōkyō Motor Show and it is arguably the first vehicle ever to be termed a 'Minivan'.  A year later, the company was taken over by Komatsu the giant bulldozer manufacturer.
#######
* * *

 G I A N T  (

デャイアント

)  Giant 

* * *
[ 

Aichi Kigyo Co. Ltd.

 ]
(1948) Giant AA3: 
  (1951) Giant Coach (6-seater): 
(1951) Giant AA3 (デャイアント) AA3:  
 (OHV single 636cc 19hp)
#######
* * * HOPESTAR  (
ホ―プ·スター

)  Hope Star * * *
[ 

Hope Motor Co.

 ]
The Hope Motor Company was founded in April 1952 by 'Ono Yoshisada', the company existed until 1974, when its licenses were sold to Suzuki.
 (1953-67) Hope Star ON 346cc 15hp 
 (1953-67) Hope Star ON 360 
Only about 15 ON 360's were produced, it was a mini-jeep powered by a Mitsubishi 356cc 2-stroke engine.  It was sold to Suzuki and eventually became the Suzuki Jimny.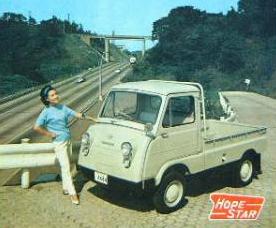 (1960-74) Hope Star Unicar NT 
The Unicar NT was advertised as being a pickup in the coupé style, with the slogan: 'The People Has Many Dreams as To The light Vehicle' !!
#######
* * * ISO  ISETTA(
イソ·エンジェー·イセッタ

)  Iso Isetta * * *
[ 

Iso Autoveicoli S.p.A.

 ]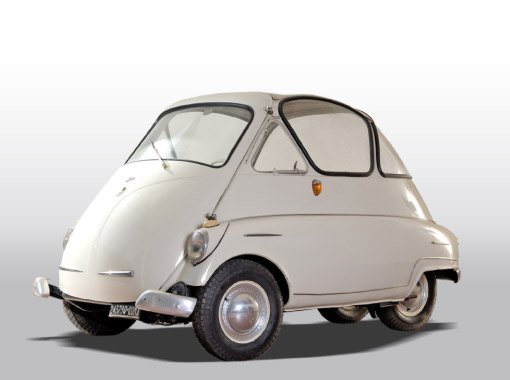 (1954) Iso Isetta 236cc 
The Iso (little) Isetta was an Italian-designed microcar built under license in a number of countries, it was the top-selling single-cylinder car in the world at the time.
#######
* * *

 K O K U E I  (

コクエイ

)  Kokuei 

* * *
[ 

Kokuei Zoki Co. Ltd.

 ]
(1950) Kokuei 346cc  
  Romance Car (4-passenger)
#######
* * *

   (
コマツ

) Komatsu * * *
[ 

Komatsu Ltd.

 ]
Komatsu Nōminsha  
  (コマツ 農民車)
The 1960年 Komatsu Nōmin-sha is an interesting vehicle.  It was made by Komatsu the bulldozer and tractor manufacturer.  The open jeep style vehicle had a centrally mounted single seat and steering column.  The driver's seat sits directly over the engine, behind which there is seating for 2 people.
Built specially for the farming community, the tyre arrangements front and rear were very tractor like.  The vehicle had towing ability and a power take off was available when the vehicle was at rest.  With a top speed of only 15 kph (9 mph) it was not suitable for use on the highways of Japan.
#######
* * *

 K U N O M A C K  (

くのマック

)  Kunomack 

* * *
[ 

Kunomack Manufacturing Co. Ltd.

 ]
 (1954) Kunomack 354cc (8.0hp) 
#######
* * * KUROGANE  (
クロガネ

)  Kurogane * * *
[ 

Nihon Nainenki Co.

 ]
The Nihon Nainenki Co. was formed in 1936 and primarily made small scout cars for the Japanese military.
#######
* * * MITSUOKA      (
ミツオカ

/

光岡

)  Mitsuoka * * *
[
Mitsuoka Motors

 (

光岡自動車

) 

mitsuoka-jidōsha

 ]
Susumu Mitsuoka:  Akio Mitsuoka: 
'Susumu Mitsuoka' is the  company founder & Chairman, his vision is 'to create cars that expressed spirit and soul and share them with the world'.  'Akio Mitsuoka' is the current Representative Director & President.
It is a small company noted for building unique cars with unconventional styling, some of which imitate British vehicles of the 1950's & 60's.  It is primarily a coach builder, taking production cars and replacing various aspects of the bodywork with its own custom designs. Mitsuoka was recognised in 1996 as the 10th Japanese auto manufacturer to be registered in Japan since Honda in 1963.  It bases its current cars on Nissan and other Japanese car manufacturers.  It also has a retail outlet in England supplying a limited range of grey imports.
(1982 – 1985) Bubu 50 Series 3-wheelers   
In the early years, it produced many tiny vehicles like the BUBU Shuttle-50.
 (1996-1999) Ray 1G is based on the Mazda Carol 
The 1st generation Mitsuoka Ray is a heavily modified Mazda Carol.  The car started out as a 3-door, however, in 2002 Mitsuoka changed it into a 5-door car.  The price ranges from ¥911,000 (£5,734) to ¥1,359,750 (£8,553).   Mitsuoka described the Ray as 'like a dignified and graceful flower'.
 (1998-2000) MC-1 & K1's are mid-engined 
The MC-1 was marketed under the slogan 'Microcar for your life'.
 The K-2 is based on the Messerschmitt TG500 
The K-3:
 & the K-4: in red, yellow, light & dark blue:  
 (1999-2000) Ray 2G is based on the Mazda Carol 

The Ray earned mixed reviews, earning a place on the 'Ugliest Cars in Britain' list due to problems with quality and design.  However, it was voted the most attractive car in Australia !!
The Ray lll  
 resembles the Riley Elf Mk 3: 
(2010-2012) Mitsuoka Like 
 is a rebadged Mitsubishi MiEV electric car.
***** (終) *****