"Emergency !!"
***** (K|C|F) *****
 

Spotlight on

. . .
[ T h e   E m e r g e n c y   S e r v i c e s ]
POLICE

,  

FIRE

  

&

  

AMBULANCE
####################
[ Police 
警察

  keisatsu ]

Japanese police kei-cars (日本の 警察の 自動車) nihon-n0-keisatsu-no jidōsha

Kei police cars have been used for many years, usually only for local policing.  They have also frequently appeared in the popular culture of Manga (漫画/マンガ) comics/cartoons & Anime (アニメ) animation.  The term 'minipato' (ミニパト) is often used to describe a 'mini patrol car' by young people.
(above) 1970 Subaru 360 (昭和45 スバル360)  Note: LHD  !!
 Suzuki Alto Patrol Cars 
 (スズキ·アルト·パト)
Mazda Carol 
 (マツダ·キャロル)
Suzuki Wagon R 
 (スズキ·ワゴンR)
Mitsubishi i-MiEV 
 (三菱 i-MiEV)
Mitsubishi Police Truck 
 (Arkansas,USA)
Model  kits  for  self  assembly . . .
1958 Subaru 360 
  1962 Mazda Carol 
####################
[ Scale Models ]
1/55 scale Subaru 360 by Tomica 
 (スバル 360)
1/64 Mazda Carol 360 by Tomica 
 (マツダ·キャロル)
1/56 Suzuki Alto by Tomica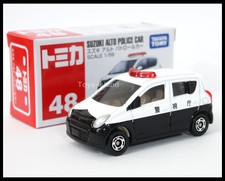 (スズキ·アルト·パト)
1/56 Suzuki Wagon R by Tomica 
 (スズキ·ワゴンR)
1/43 Mitsubishi i-MiEV by j-collection 
 (三菱 i-MiEV)
####################
[ 

Mange

 

&

 

Anime

 ]
  From  the  Choro  Q  ( video game ) 
The Honda Today driven by Natsumi and Miyuki in taiho-shicha-uzo in 'You're under arrest' !!
Famously, a Honda Motocompo is stored in the boot 
####################
[ Fire Service 
消防隊

  shōbōtai ]

Kei fire trucks exist, but I've never seen one in the flesh.  They are very good for accessing very tight spaces and are used by companies requiring their own service.
A fully fledged kei fire engine similar to the above, has recently been put into service by Shibukawa City in Gunma Prefecture, Japan.  The kei based fire engine has been converted to carry a pumping unit capable of hosing out 900 litres of water per minute.  The conversion was carried out by a specialist fire appliance conversion company in Utsunomiya, Tochigi Prefecture and is claimed by the city and the 'Japan Fire Appliance Association' to be the very first kei truck based fire appliance in Japan.  Kei trucks are sometimes used in support roles, but this is the first time one has been converted to be a fully-fledged water pumping appliance.  As it's only 3.4 meters long and 1.5 meters wide, Shibukawa City fire department officials claim that it will increase protection for citizens and tourists in this spa resort town where the streets are too narrow for full-sized fire trucks to negotiate effectively.
Subaru Sambar fire truck 
 Middlesborough (USA) !!
Suzuki Carry fire truck: 
####################
[ Ambulance 
救急車

  kyūkyūsha ]

Kei type ambulances are used on the remote islands of Hong Kong.  In Japan, stretcher bearers are used for local transportation, and specially adapted kei vans are used for carrying wheel-chairs.

A  Hong  Kong  ambulance 
Stretcher Bearer 
  Wheel-chair Carrier 
####################
And if you need an urgent telegram, it might come in one of these !!
####################
***** 終 *****