"Electric & Hybrid"
***** (K|C|F) *****
  

 

Spotlight on

. . .
[ E l e c t r i c   &   H y b r i d   K e i – c a r s ]
電気 自動車

)
 Electrics: Since 2008, a renaissance in electric vehicle manufacturing has occurred due to advances in batteries and energy management, concerns about increasing oil prices, and the need to reduce greenhouse gas emissions.  As of December 2015, there were over 30 models of highway legal all-electric passenger cars and utility vans available for retail sales, mainly in North America, China, Japan, and Western European countries.  Kei-cars have been instrumental in developing electric technology before being passed on to their bigger counterparts.  The electric motor sits between the gasoline powered engine and the transmission unit.
The Daihatsu Mild Hybrid System 
 (DMHS)
Hybrids:  Use two or more distinct types of power, such as internal combustion engines plus electric motors in combination.
PEV's (Plug–in Electric Vehicles)  are becoming more and more common.  They have the range needed in locations where there are wide gaps with no charging services.  The batteries can be plugged into house (mains) electricity for charging, as well being charged while the engine is running.
###################
[

E a r l y    E l e c t r i c    P i o n e e r s

]
1949 Tama Junior (Tōkyō Electric Automobile Co.Ltd.) 
1949 Tama Senior (Tōkyō Electric Automobile Co.Ltd.) 
1949 Zewo '3-wheeler' (Zewo Manufacturing Co.Ltd.) 
1950 Denka FC (Nippon Electric Automobile Co.ltd.) 
1950 Shinko (Kobe Seikō Co.Ltd.) 
   1950 Sun (Nitta Sangyō Co.) 
####################
[ T h e   M a j o r   M a n u f a c t u r e r s ]
   D a i h a t s u  (
ダイハツ

)   
The Daihatsu Motor Co. (ダイハツ工業 株式 会社)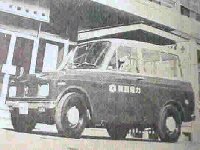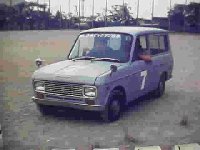 In 1968 – 1969, The Daihatsu Electric vehicle Development Committee (EDC) made 5 electric cars based on the Daihatsu Fellow Van as an experiment.  The cars were tested by the Kansai Electric Power Co.  The 'Fellow Van EV' went on sale in September 1969 of that year.
The FC Showcase Concept
The FC Showcase is one of the more interesting concepts, it's completely rectangular and also completely tiny at 134″ long x 58″ wide and 75″ tall.  It also uses Daihatsu's proprietary 'zero-precious-metal liquid fuel cell technology'.  Not using precious metals in the fuel cells reduces the resources problem considerably and also reduces the overall cost of the vehicle.  The fuel cells are even high density, meaning the FC should have a pretty significant range, though no figures have been quoted.
 Daihatsu Hijet Cargo
In 2002, Daihatsu debuted the 'Hijet Cargo Hybrid Concept', using a 660cc engine.  The car is based on the existing non-hybrid Hijet Cargo.  Its design called the 'Daihatsu Mild Hybrid System' (DMHS) is based on Toyota hybrid technology and is quite different from many existing hybrid designs whereas the petrol and electric powered components are assembled as one unit.  The electric motor sits between the gasoline powered engine and the transmission unit and is 30% more fuel efficient than its gasoline powered counterpart.
  Daihatsu Midget EV 
 (private conversion)
 Daihatsu Pico Electric Concept 
The Pico 2-seater (one behind the other) concept is totally electric.  It classifies as a kei-car, but is supposed to fill a gap between kei-cars and 2-wheeled vehicles.  Daihatsu's target market is businesses delivering locally as well as the ever increasing domestic population of elderly citizens.  The Pico has a low flat floor to make getting in and out as easy as possible.
 Daihatsu Tanto FCHV 
In 2005, the Daihatsu Tanto FCHV (fuel cell hybrid vehicle) was introduced at the Tōkyō Motor Show.  Based on the 1st Generation Tanto compact MPV currently in production at the time, this prototype has an added hydrogen tank and electric motors.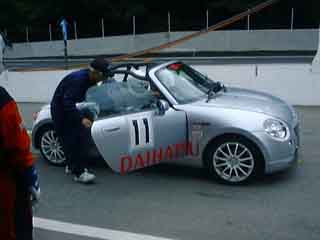 A (2003) Daihatsu Copen EV conversion !! 
####################
   M i t s u b i s h i  (
三菱

)    
Mitsubishi Motors Corporation (三菱 自動車 工業 株式 会社)
 The Mitsubishi 'i' MiEV 
  On street charging 
Mitsubishi has given the 'i' a prominent role in the company's alternative propulsion research projects, developing a version using their MiEV technology in 2006 and exhibited at the 22nd International Battery/Hybrid and Fuel Cell Electric Vehicle Symposium & Exposition in Yokohama.  MMC provided 3 power companies with vehicles in 2006 and 2007 in order to evaluate how a 'fast-charge' infrastructure might be developed for electric vehicles.  Fleet testing by 5 power companies was conducted later in 2007, with a view to future public sales between 2008 & 2010.
The 'i' won the 2007 Car of the Year award from the Japanese Automotive Researchers & Journalists Conference (RJC), and 2 other 'Car of the Year' awards.
Rebadging: The 'i' is also badged as a Citroen C-Zero/Peugeot iOn in Europe.  In the US, the Miev is dropped to just 'i'.
 The Minicab MiEV 
In January 2011, Mitsubishi announced the launch of an electric version of the Mitsubishi Minicab, the 'Minicab MiEV' it was launched in December 2011 on the home market.  A truck version was also launched in January 2013.  'MiEV' is an acronym for 'Mitsubishi innovative Electric Vehicle'.
####################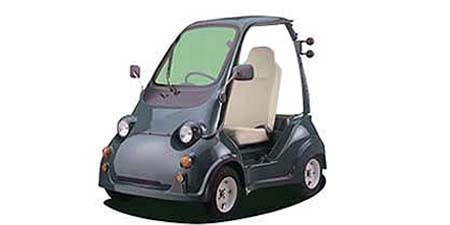 Mitsuoka Motors (光岡自動車工業) mitsuoka-jidōdsha-kōgyō
Mitsuoka was recognised in 1996 as the 10th Japanese auto manufacturer to be registered in Japan.  It bases its current cars on Nissan and other Japanese car manufacturers.  It also has a long association with electric vehicle manufacture and production.
In the early years, it produced many tiny vehicles and microcars like the 'BUBU Shuttle-50', which was a production series of 3-wheeled micro-cars . . .
. . . and the 1998 – 2007 MC & K-Series of 4-wheeler microcars.
The MC-1 
The MC-1 was marketed under the slogan 'Microcar for your life'.  It was also available as an EV (Electric Vehicle).





The 'MC-1 EV', is powered by a DC electric motor which produces 0.59 kilowatts (0.8 hp) of power.  There were 3 different motors available: 12V/48V/72V.
The Mitsuoka MC-1 'Convoy 88' 
 (Minica Model No 121)
In 2004, the Minica Model No 121 Mitsuoka 'Convoy 88' was available for a limited period from Mitsuoka Motors.  It was given to purchasers of the real electric single seater vehicle (above) which featured a retro Citroen H Van front end & side panels.  A limited number of 35 units were produced.
Mitsuoka Like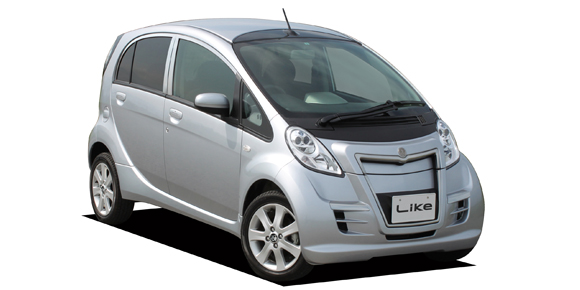 (2010 – 2012)
The Mitsuoka Like is a rebadged Mitsubishi i-MiEV (Mitsubishi innovative Electric Vehicle) electric car built to kei-car specifications.  It gets its name from the Romanisation of the Japanese term 'Raiku' (雷駆) 'Thunder Drive', which is a combination of the characters for Thunder (雷) and Drive or more specifically Drivetrain (駆).  It initially cost ¥5,755,612 (£41,378), but with a later applied tax credit, the cost was reduced to a very reasonable¥1,522,621 (£10,946).  It was discontinued in 2012.
The i-MiEV 
 (rear platform)  Rear- midship setup 
The 5-door hatchback is an electric version of the Mitsubishi i, which was the first car since the 1960's to employ a rear-midship setup, with the engine behind the passengers.
The design was said to improve safety and interior passenger space, without increasing the overall exterior dimensions.  The car was sold in Europe as the Peugeot iOn and the Citroen C-Zero.
[ 

S p e c i f i c a t i o n s

 ]
Class:  Kei class            Body style:  4-door
Engine: Electric motor     Battery: Lithium-ion Battery     Length: 3,570 mm (140.6 in)
Width: 1,475 mm (58.1 in)     Height: 1,610 mm (63.4 in)     Curb weight: 1,120 kg (2,469 lb)
####################
  S u b a r u  (
スバル

)  
Fuji Heavy Industries (富士重工業株式会社)
  Subaru R1e 
The Subaru R1 is the base car for the 'R1e' an experimental battery electric vehicle, currently undergoing limited production for selected industrial clients in Japan.  There is intense interest in this vehicle within the United States EV community as it employs Lithium Ion batteries which contribute to a significant improvement in range, and which can be 80% recharged in just 15 minutes.  The 'G4e' is a follow-up to the R1e with an improved battery, range, and bolder styling.
 The G4e concept
 

The Stella 
2G
Electric  version:  In June 2008, Subaru unveiled an all electric concept vehicle combining the Stella platform with the electric drive from the Subaru R1e, which uses TEPCO lithium-ion batteries.  It was intended to be sold in the European Union but has not materialised, only being sold on the home market to fleet & Government users.
####################
  (
スズキ

)  S u z u k i  
The  Suzuki  'Twin' 
 (2003 – 2005)
The Suzuki Twin was built and sold in Japan from January 22nd 2003, until October 2005.  It was available in both hybrid & non-hybrid versions, making it the first hybrid kei-car available in Japan.  Under the Japanese test cycle, the standard model was capable of 4.54L/100 km whereas the hybrid variant was capable of 2.93L/100 km.  Designed primarily for young females it featured many new and unique features including a passenger seat that could fold completely flat and become a storage tray and a single power window on the driver's side to reduce battery use and cut costs.
Rear view 
   Interior 
 The Suzuki Pu3-Commuter  (スズキ Pu3-コミュ-タ-)
The Suzuki Pu3-Commuter has a chassis structure that accepts three different types of power units, a gasoline engine, a hybrid system, or an electric motor, to meet a wide range of user needs.  There is also a special Passenger Seat Wheelchair Version which has a sliding door, with the seat doubling as a wheelchair.  It was unveiled at the 1999  Tōkyō Motor Show where it won best of show !!
####################
   

Toyota  Concept

-i  

Ride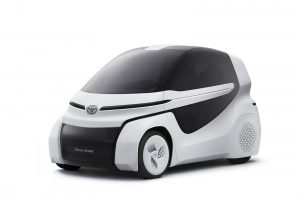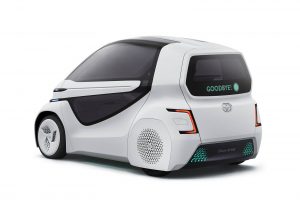 The Ride has been constructed with the disabled in mind and uses artificial intelligence which understands the driver's wishes and feelings with autonomous driving systems for maximum comfort and safety, offering the driver a new kind of driving experience.  The Ride is a 2.50 meter long two-seater with a range of up to 150 kilometers, which is also suitable for wheelchair users thanks to the wide-opening wing doors and an electrically operated seat and is only 1.30 meters wide,so it can work in the confines of a normal parking space.
####################
[ L e s s e r   K n o w n   C o n s t r u c t o r s ]
 The Eco Beagle 
The 'Eco Beagle' is made by a family-run business from Toyama in north-western Japan.  The cars are made from scratch in a garage workshop.  There are no assembly lines or industrial robots in sight.  Instead just a dozen mechanics crafting each model by hand, right up to the finishing touch of adding a set of beady headlights to their 'Milieu' range.
The mini electric car comes in red, white, green and and canary yellow, having a price tag of about £7,755 and are "generally viewed as cars for the elderly, or for drivers who had their normal licenses removed due to drunken driving" said Manabu Takeoka, the leader of the company.  He wants to change the image of small electric vehicles.  "We've improved the shape of our latest model to make it cuter, to attract younger clients," he added.
The Eco Beagle is powered by a lithium-ion battery that can be charged from a conventional wall socket.  With a speed of 60 kph, the latest model of this car can drive up to 70 kms (45 miles) on one charge.  The company's lineup includes 6 models made of lightweight fibre-reinforced plastic, ranging from 1 to 4-seater cars.  The models weigh between 300 – 740 kgs and measure less than 3 meters in length.  Mr Takeoka began developing electric cars in the 1990's and the sales are currently at around 100 cars per year.
####################
The  Fomm  Concept  One 
 (It floats !!)
The Fomm Concept One, which was presented for the first time in 2014, is scheduled to go into production in December 2018.  It was developed by a former Toyota engineer and fitted with two motor wheels.  It is flood proof and can even float in water !!  The 4-seater microcar is almost 2.50 meters in length, and just 1.30 meters wide and 1.55 meters high.  The two electric motors accelerate the 460 kg vehicle to up to 80 kph (49.7 mph). The range is up to 100 kilometers.
The manufacturer was inspired by the Japanese tsunami in 2011.  The former Toyota engineer Hideo Tsurumaki witnessed the devastation of the tsunamis up close. His goal was to develop a vehicle that remains ready to drive even during floods.  The bulk of Fomms research has therefore focused on the technology of water propulsion.  The team also worked with scientists from the University of Tōkyō.
####################
 MINI  SWAY  EV (ミニ スウェイ) 
The single seat Mini Sway EV measures 2,395 x 1,490 mm and has a top speed of  45 kph (28 mph)
####################
T A K E O K A  (タケオか)
[Takeoka Motor Industrial Art (タケオか 自動車 工芸) takeoka-jidōsha-kōgei]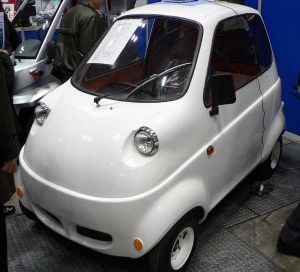 The Takeoka 10 (EV)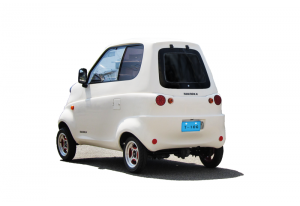 ####################
 Wangan Midnight Datsun Z Mini Electric !!  
This 45 hp mini Blue Demon Z was built by the students of the 'Saitama Institute of Automotive Technology'.  It mimics as closely as possible, in miniature proportions, the original Blue Demon Z from the anime Wangan Midnight.  The show is a lot like Initial D, although it takes place on the tollways of Tōkyō (like Fast and Furious–Tōkyō Drift) rather than the mountains of Gunma.
***** (終) *****