"Kei-Buggy's"
 Spotlight on…
[ K E I – B  U  G  G  Y  ' s  ]
The term "Buggy" is generally used to refer to any lightweight automobile with an off-road look or capabilities and spartan bodywork, usually meaning the lack of doors and normally associated amenities.  Most are built either as a kit-car or from scratch, both Daihatsu and Honda produced buggy's in the early 70's, with very limited success.  Originally used to describe very lightweight horse-drawn vehicles for one or two persons, the term was extended to lightweight automobiles as they became popular.  As automobiles became increasingly sophisticated, the term briefly dropped out of use before being revived to describe more specialised "off road" vehicles, such as the Citroen Méhari and Volkswagon Beatle / Beach Buggy variants .
[ T h e   1 9 7 0   D a i h a t s u   F e l l o w   B u g g y ]
(昭和45ダイハツ·フェロー ·バギー製造100)
The "Beach Buggy" version of the Daihatsu Fellow Max was only avaiable for one year in 1970.  The 356 cc 2-cylinder water-cooled engine had a 4-speed manual, floor mounted gearbox.
The 440kg curb weight "Fellow" was not strictly a Fellow, as it was built onto a Hijet chassis with fibre-reinforced plastic bodywork it also used the Hijet's lower powered 26 PS (19 kW) engine, providing a top speed of around 95 km/h (59 mph).
While highly prized by collectors today, the Fellow Buggy only sold about 100 examples and was only available for a single model year (1970).
[ The Daihatsu Fellow Buggy in Art !! ]
*******************************************
  The "Daihatsu Fellow Buggy" in Computer Games :
'70 Fellow Buggy in Mario Kart 8, (2014): 
*******************************************
[ T h e   1 9 7 0 – 1 9 7 3   H o n d a   V a m o s ]
(昭和45-48本田バモス製造2,500)
The Mini SUV rear-wheel drive "Honda Vamos" was manufactured from 1970-1973 and was officially classed as a kei-truck, "Vamos" is Portuguese for " let's go! " (行こう!).  It was based on the Honda TN360 cab over pickup truck, using the same 354 cc 2-cylinder, mid-mounted, air-cooled, overhead camshaft petrol engine which was also shared with the Honda N360, and the Z360.
The Vamos was a competitor at the time to the Suzuki Jimny and the Daihatsu Fellow Buggy, around 2,500 were sold over the three years of production and Honda had hoped the popularity of the Honda Dax minibike with its off-road image would be associated with the Vamos.
Because of the installation of the spare tyre on the front of the vehicle and the sound from the air-cooled engine, it had a Volkswagen Type 2 reputation but because of the open cabin design, it wasn't very popular due to a lack of 4-wheel drive.  It had no doors except for the ones on the side to access the under-bed locker, and there were several variations of the folding canvas roof, allowing for a single or double-cab pickup style, or for an entirely enclosed van type shape.
The Vamos was available with an optional and removable rear seat, it was also known as the Vamos 2 or the Vamos 4, depending on the seat configuration and was available with lap only seat belts for all passengers.  The convertible top was easily and quickly removed as needed.  Due to the open cab configuration, all instrumentation and switches were both water and dust proof.  It used a MacPherson strut front suspension and a De Dion tube with half leaf springs at the back.
**********************************************
Found this 1970 Honda Vamos for sale in Holland at Potomac Classics .
The Vamos has 65,603 kms on the clock and is for sale at ¥961,027 (£7,450).  The truck has been in storage for many years, and the engine does not run although it turns over.  There are no papers for the car which is a Japanese import.  Got to say don't like the colour very much !!
**********************************************
  The "Honda Vamos" in Computer Games :
'70 Vamos in Code-Name: Iceman, ('89):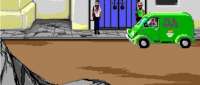 '70 Vamos in Choro Q Park, ('98); Vamos in Choro Q HG 4 (Choro Q), ('03):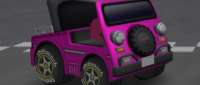 Vamos in Choro Q Works, ('05).
**********************************************
A bit cramped !!
**********************************************
A   M o d e r n  –  d a y   B u g g y ?
The Daihatsu Costa 
 Concept Car (2005)
The Daihatsu Costa was a concept car introduced at the 2005 Tokyo Motor Show and is basically a city car designed to be taken to the beach.  It is light in weight at only 750 kg (1,654 lbs) and has no doors, similar to a golf cart.  It's a simple beach car in the spirit of the Mini Moke or Citroen Mehari with high sills, open sides and is based on the Daihatsu Move 4×4 platform.
An unusual centre pillar provides a mounting for seatbelts and the long seat armrests and broad sills provide a sense of security for occupants.  The interior features mesh covered hammock-like seats and wood deck flooring for all-weather utility.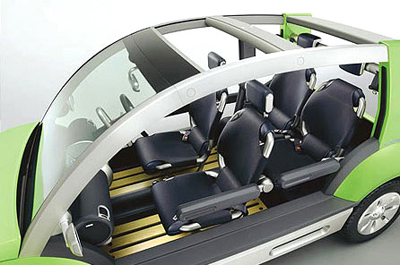 It is powered by a 660 cc turbocharged 3-cylinder engine and its light weight and comparatively powerful engine make it relatively fast for its size.  The Costa was actually designed and built in Britain but there are no plans to put it into production.
********** (終) **********