"Honda 'S' Series"
***** (K|C|F) *****
[ The  '

S

'  Series of  Honda  Sports  Cars ]
[ Honda  '
S

'  Series  ( 

本田

 '

S

' シリーズ )

1962 ~

]
[ T h e  
1 9 6 2

   

H o n d a  

S360

 ]
  
1962
Honda  S360
The Honda S360 sports car was unveiled on the 5th June 1962 during the 11th National Honda General Assembly held at the Suzuka Racing Car Circuit in Mie Prefecture Japan, it was one of the first cars manufactured by them, however, it was never put into production.  It used a 356cc AK250E series DOHC inline 4-cylinder engine with a front-engine and rear-wheel drive ( RWD ) layout which it shared with the Honda T360 truck.
The all-new Honda S360 eventually took to the track with Honda founder Soichiro Honda behind the wheel and Yoshio Nakamura, manager of the development project, in the passenger seat.  The S360's entrance impressed the representatives of Honda's franchised dealers who had strongly suggested that Honda manufacture cars so they had products they could sell during the winter months when motorcycle sales declined.
Soichiro  Honda

    ( 

1906 – 1991 

)
Yoshio  Nakamura    ( with  John  Surtees )
On the 25th October 1962 at the 9th Japan National Motor Show, Honda displayed the S360.  Despite a very favourable reception at both the Honda Meeting and the Tōkyō Motor Show, the S360 never made it to the market because by this time, the S500 was now ready and considered a much more marketable proposition on a global level.
The car was also on display at the 2013 Tōkyō Motor Show (below)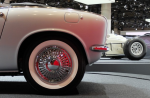 #########################
#########################
[ T h e  
1 9 6 3  

 

H o n d a  

S500

]

The  Honda  S500  
  ( 1963 – 1964 )
The Honda S500 2-door roadster was the second production car from Honda, released in 1963, it followed the T360 Truck into production by 4 months.  It had a larger displacement than the S360 Roadster, and had a dual overhead cam ( DOHC ) straight-4 engine with 4-carburettors and a 9,500 rpm red line !!  The S500 used the high-tech knowledge  gained from Honda's motorcycle expertise.
Originally intended to displace 492cc, the production version was 531cc and produced 44 hp @ 8,000 rpm.  Weighing just 1,500 lb ( 680 kg ), the tiny S500 could hit 80 mph ( 129 kph ). Unfortunately its dimensions and engine displacement were larger than the established kei-car regulations of the time.
The front-engined rear-wheel drive ( RWD )  S500 used a 4-speed manual transmission with chain drive to the rear wheels.  A 4-wheel independent suspension was also novel, with torsion bars in front and diagonal coil over shock absorbers at the rear.
The car was priced at ¥127,754 (£975) in 1963.  An optional fibreglass hardtop was also available.  In all 1,363 Honda S500's were produced from October 1963 through to September 1964 when production ended.  The car is highly desirable today commanding huge prices if you can find one !!
Incidentally, the T500 Pick-up Truck also used the same base.  9,500 rev limit !!
#########################
#########################
[ T h e 
1 9 6 4

  H o n d a  S600 ]
  The  Honda 

S600

  
The Honda S600 was launched in March 1964 as a roadster very similar in appearance to the S500 and also as a fastback coupé.  Production ended in 1966.
  The  Fastback  Coupé  
In Total 11,284 convertibles and 1,800 coupés were made during its 3-year lifespan.
#########################
#########################
[ T h e 
2 0 1 5

  H o n d a  S660 ]
  The  Honda  S660  
The Honda S660 is a 2-seater 2-door roadster, that was first shown in prototype form at the November 2013 Tōkyō Motor Show.
The  Honda  S660   ( 

Prototype 

)
The lightweight S660 is a transverse mounted mid-engined rear-wheel drive ( RWD ) 'targa-topped' roadster that shares a platform with the Honda N-One.  It is almost identical in dimensions to the 1990's Honda Beat, and uses the same 3-cylinder 660cc engine with approximately 47 kW ( 63 hp ) and 104 N/m ( 77 lb/ft ) of torque,with mechanical improvements.  The mid-engine design balances weight on the front and rear of the car to provide good handling qualities.  The design is claimed to have 45/55  front to rear weight balance, and is exactly even between the axles.
Ryo  Mukumoto:    ( lead  engineer ) 
The development team of the S660 was led by 'Ryo Mukumoto' who beat 400 other participants in Honda's in-house competition.  Honda made him the youngest lead engineer in the company's history even though he had no engineering experience.  He was 22 years old when he was chosen and was given 5 years to develop the sports car.
Initial reactions to the concept car were favourable, the first driving review was in June 2015, being a review of a Japanese market prototype driven by Top Gear in Tōkyō, the reviewer felt the car was 'supremely manoeuvrable' but lacked power.
The roadster measures 3,395 mm ( 133.7 in ) in length, 1,475 mm ( 58.1 in ) in total width and 1,180 mm ( 46.5 in ) in height, with a wheelbase of 2,285 mm ( 90.0 in ) and a curb weight of 830 kg ( 1,830 lb ).  It comes with a choice of a 6-speed manual transmission or a CVT ( Continuously Variable Transmission ) with paddle shifters, both options being offered on the two trim levels available ( alpha & beta ).  Only one engine is available, the S07A straight 3 borrowed from the N-One, although it has been modified to fit the S660's more sporting image.
Honda have sold all 8,600 units slated for production this year and is fully booked through June.  Sales were initially directed towards younger people, but surprisingly, 4 out of 5 buyers are aged over 40 years old !!  Apparently they are popular as second cars !!
Honda is now selling a JDM ( Japanese Domestic Market ) exclusive 'Mugen RA' version of its S660 sports car, but only in limited numbers.
Hirotoshi  Honda

    ( Mugen  Founder )
Mugen Motorsports ( M-TEC Co. Ltd ) is a Japanese company formed in 1973 by 'Hirotoshi Honda', the son of Honda founder Soichirō Honda, and 'Masao Kimura'.  'Mugen', meaning 'without limit', or 'unlimited' although I prefer 'infinity' is an engine tuner and parts manufacturer that manufacturers OEM  ( Original Equipment Manufacturer ) parts such as body kits and sports exhausts for the Honda Motor Company.  Despite the family connection, Mugen is not, and never has been, owned by the Honda Motor Company.
    [ 
無限 

]  
As well as the Mugen bodykit & louder exhaust, the Mugen RA also gets a carbon fibre front grille, new BBS alloy wheels ( 15″ dia front and 16″ rears ) and adjustable Bilstein dampers.  All of these upgrades do come at a premium, as the RA retails for more than ¥ 801,560 ( £6,117 ) more than the standard ¥1,803,497 ( £13,764 ) car.  Appropriately only 660 units are available on a first come first served basis, be quick !!
#########################
[ T h e  H o n d a  S800  &  

S2000

]
The S800:   
The S2000:   
Unfortunately both cars (above) are over the 660cc kei-car limit, but still cool !!
***** 終 *****