"Daihatsu Copen 2G"
 Spotlight on …
[ The Daihatsu Copen 2nd Generation ]
(2014 ~)
  (ダイハツ·コペン 2G)
Less than one year after the discontinuation of the 1st Generation Copen, Daihatsu announced the Copen would be returning to production on June 19th 2014 with a new model, which is still in production today.
The 2nd Gen. model debuted as the Kopen (Future Included) at the 2013 Tōkyō Motor Show.
Inside, there's a mix of leather, suede and carbon fibre along with a flat-bottomed steering wheel.  The interior appears to be fairly minimalist, with all the controls and buttons found on a touchscreen fitted to the centre console, there's also a digital readout and push-button start.
Production of the new model was announced on June 19th 2014.
The Copen has been restyled to be more angular than its predecessor with a new monocoque chassis structure called a D-Frame. The structure allows owners to select the interior and exterior design of the car according to their preferences.  The body panels are made of 13 separate resin components, 11 of which are interchangeable in order to modify the design and colour combinations.  The Copen also features a new suspension system, a new 660cc turbo 3-cylinder engine (KF I3) with DVVT (Daihatsu Variable Valve Timing), better sounding exhaust system and weight reduction.
[ Specifications ]
2014 Japanese market model KF engine :
658cc 3 cylinder 12-valve DOHC intercooled turbocharged.
Compression ratio : 9.5.          Power : 47 kW (63 hp) at 6400 rpm.
Torque : 92 N/m (68 lb/ft) at 3,200 rpm.
Combined fuel consumption : 4.5 L/100 km (63 mpg UK, 52 mpg US (MT).
4.0 L/100 km (71 mpg  UK, 59 mpg US  (AT).
Transmission : Manual – KPMZ 5-speed with ratios 3.181, 1.842, 1.250, 0.916, and 0.750.
Automatic – KBPZ Continuously Variable Transmission(CVT) with ratio 3.327 to 0.628.
Body : Layout – Front-engine, front-wheel-drive.
Weight – 850 kg (MT).   870 kg (AT).          Wheelbase – 2,230 mm (88 in)
*******************************************
The Copen Cero Concept Coupé :
*******************************************
In Japan, models sold were the Copen XPlay, Copen Robe and a special "S type" for the Copen Robe.  A new Cero model has also been introduced, which has a shape close to that of the first generation Copen.
The Copen XPlay:
The Copen Robe: 
The Copen Cero: 
[ G A L L E R Y ]
The Copen is a popular car for modifying … :
*******************************************
  The "Daihatsu Copen 2G" in Computer Games:
2014 Daihatsu Copen in CrossThe Ridge R (2014):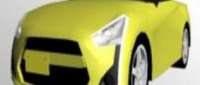 ********** (終) **********