"Caterham Seven 160"
***** (K|C|F) *****
[ T h e   C a t e r h a m   S e v e n   160 ]
 Caterham  Cars  ( 
ケータハム 

) 
Sometimes the 'kei' ( 軽 ) of kei-car is written into the word Caterham ( 軽タハム ) 'kei-tahamu' !!
(
軽タハム

  

/

  

ケータハム·セブン

160

)

The 160 exemplifies the ethos of 'performance through lightweight ' and making the driver feel absolutely connected to the road.

 
The Caterham Seven ( or Caterham 7 ) is a super-lightweight sports car produced by 'Caterham Cars' in the United Kingdom.  It is based on the 'Lotus Seven', a lightweight sports car sold in kit and factory-built form by Lotus Cars, from 1957 – 1972.
After Lotus ended production of the Lotus Seven, the Caterham company bought the rights to the design, and today make both kits and fully assembled cars.  The modern Caterham Seven is based on the 'Series 3 Lotus Seven', though developed to the point that no part is the same as on the original Lotus.  Various other manufacturers offer a sports car in a similar basic configuration, but Caterham owns various legal rights to the Lotus Seven design and name.  The company has taken legal action in the past in order to protect those rights, except in South Africa after it lost its case against 'Birkin Cars' on the basis that it never obtained the claimed rights from Lotus.
The 160 and 165 Sevens are the current entry level offerings and are only available with the S3 chassis and live-axle rear suspension.  Doors and windscreen are standard.  There is a list of optional extras such as carpets, spare wheel, weather package & heater.  Power is provided by a Suzuki 660 cc turbocharged 3-cylinder kei-car engine as used in the 'Suzuki Jimny' producing 80 bhp @ 7,000 rpm and 79 lbs/ft @ 3,400 rpm, with a top speed of 100 mph and 0-60 mph taking just 6.91 seconds.  It revs to an impressive 7,700 rpm before the built in limiter intervenes.
New for the 160 in 2015 is the availability of an optional 'S' pack which is geared towards the casual road driver.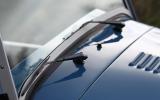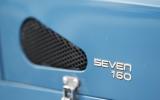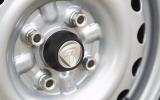 [ P r i c e   S t r u c t u r e ]
The 

Seven
160

 starts at ( 

£15,999 

) with the standard '

S3

' chassis.
The

Seven
160

'

S

' at ( 

£18,995 

);     Factory build + ( 

£3,000 

).

OPTIONS :  Aero screen carbon-fibre ( £350 );   Full windscreen, hood & frame + Side-screens in Vinyl ( £1,250 );   Full weather equipment with interchangeable composite wind deflector ( £1,550 ), 'S' model + ( £300 );   Half doors vinyl ( £200 );   Tonneau cover vinyl ( £170 );   Side screen armrests on either full or half doors ( £95 );   Half hood ( £195 );   Hood bag ( £80 ).

INTERIOR :  Fully carpeted interior ( £115 );   Dashboard carbon-fibre ( £295 );   Seats black leather ( £495 ) / composite race ( £295 );   Momo Steering wheel ( £150 ) / Quick-release ( £300 ) / S model + ( £150 );   4-point race harness ( £250 );   Heater ( £300 );   12v socket ( £45 );   Lowered floors increased room ( £395 ).

EXTERIOR :  Filler cap aero-filler Silver / Black ( £115 );   Stainless steel rear wing guards ( £40 );   Black pack: Includes headlamp bowls, w/screen frame, exhaust heat shield, carbon-fibre rear wing guards and carbon-fibre sill protectors ( £195 );   Spare wheel and carrier ( £495 );   High Intensity lights with LED daytime running lights ( £800 ).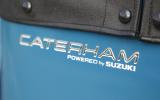 ADDITIONALS : On the road package (factory built cars only)  includes IVA inspection ( £805 );   Draper tool kit ( designed specifically to tackle the job of maintaining a Seven )  It includes tools required for general maintenance with a number of devices not found in typical tool sets ( £475 );  Kit delivery (UK Mainland) ( £395 ).
PAINT: As standard all Caterhams are supplied unpainted in aluminium finish with coloured fibre-glass wings and nosecone.  For an additional fee a Caterham can be painted in either one of the standard finishes or in a custom colour :
[ 

S T A N D A R D    F I N I S H E S

]
Caterham Black: 
 Blue: 
 Green: 
 Orange: 
 Red: 
 Yellow: 
[ 

O P T I O N S

]
Standard Non-Metallic :  Gravity Black / Exocet Red / Vintage Green / Firecracker Yellow ( £1,250 ).
Non-Metallic :  Caterham White / Bright Green / Gulf Blue / Black Gray ( £1,500 )  / 'S' model + ( £250 ).
Metallic & Special Non-Metallic :  Viper Blue / Dark Silver / Platinum Silver / Ultraviolet / Ballistic Orange / Peppermint Green / Riviera Blue ( £1,750 )  / 'S' model + ( £500 ).
Pearlescent :  Competition Red / Arancio Argos / Detonator Yellow / Crystaline White / Roulette Green / Caterham New F1 Green ( £2,000 )  / 'S' model + ( £750 ).
Custom : (any other colour) Painted '7' grill ( £75 );  Noseband ( £115 );  Noseband & bonnet stripe ( £295 );  Roll bar / cage ( £350 );  Full decal pack Double stripes / Triple Stripes ( £295 ).
[
160

  –  

S p e c i f i c a t i o n

  –  

165

 ]

The Seven is designated '160' for the home market, and '165' for the European market.  European models will end in '5' in order to emphasise the engine's 'Euro-V compliance'.  While power will be unchanged, European models will be subject to a small number of minor modifications to meet legislative standards in other markets.  Caterham have also improved the standard output of the engine from '64bhp' to '80bhp' as well as improving economy and emissions.

STANDARD :  660cc 3-cylinder turbo Suzuki K6A engine;   S3 Chassis;  5-speed gearbox*;   14″ steel wheels / ZT5 tyres;   Front discs / twin calipers;   Rear drums;   Weight 490 kgs;   Power-to-weight 163 bhp/tonne;   CO2 emissions 114 g/km;   Fuel economy 57.6 mpg ( combined ).

* The 5-speed manual gearbox is supplied by Suzuki but adapted by Caterham's engineering division.
  ( 
1957 

)  Lotus 7  
The 160 pays tribute to the original Colin Chapman 1957 Lotus Seven which was powered by a 40 bhp 1.2 Ford engine with a top speed of 80.4 mph.  The Suzuki engined 160 produces 80 bhp with a top speed of 100 mph with a 0-60 time of just 6.91 seconds, the Lotus 7 took 16.2 seconds.
The fundamental design of the Seven hasn't  altered much since 1957, although it has been refined and updated for the 21st Century.  Consequently, lightness, cost-effectiveness and simplicity were  important factors for the new entry-level model.  The tubular space frame construction is clothed in stressed body panels made mostly of aluminium.  Composite panels have been adopted in places, to save weight.
The car's suspension has the same double front wishbones that you'll find on a normal Roadsport model, shorter than the one's on a Supersport.  At the rear, there is a live axle suspended via trailing arms and a Panhard rod.  The standard cabin is extremely spartan, so the options list is extensive.
Entry though difficult is a nightmare with the hood up.  The lowered floor option is an absolute necessity if your over 6′ tall.  For comfort, leather seats, a heater and carpeting are the best options.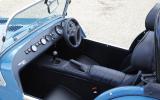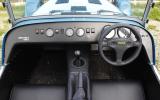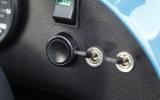 The 160 works better in the lower rev range between 3,000 rpm & 5,500 rpm with wise use of the available gearing.  Though some performance is still available from 7,000 rpm onwards.  It clearly doesn't have the pep associated with the usual Seven but on quiet 'B' roads it comes into its own.  In the dry it is almost impossible to lose traction even with the thin tyres but in the wet that's a different story, so fun is there to be had.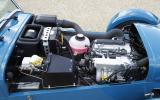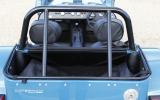 The price of the 160 in its most basic form is pretty good until you add on the cost of actually getting it on the road.  Consequently, the on the road price seems to be a little on the expensive side even more so with added options to make it more comfortable.  Fortunately depreciation wise, resale values for the Caterham remain very good.  Over time it should attain classic status, though it's not quite there yet.
#########################
–   Top Gear time lapse build of the Seven 160  –
***** 終 *****