"Mitsuoka"
******* (K|C|F) *******
[ Other    Cars ]
Mitsuoka Motors (光岡自動車工業) mitsuoka-jidōdsha-kōgyō
Mitsuoka is a small public company noted for building unique cars with unconventional styling, some of which imitate British vehicles of the 1950's & 60's.  It was founded on the 1st of February 1968 by 'Susumu Mitsuoka' and its headquarters are at Kakeomachi, Toyama City in Toyama Prefecture.
Susumu Mitsuoka (光岡 進): 
Susumu Mitsuoka is the  company founder and Chairman, his vision is 'To create cars that expressed spirit and soul and share them with the world'.
Akio Mitsuoka (光岡 章夫): 
Akio Mitsuoka is the current Representative Director and President.
***************
The company is primarily a coachbuilder, taking production cars and replacing various aspects of the bodywork with its own custom designs.  Mitsuoka was recognised in 1996 as the 10th Japanese auto manufacturer to be registered in Japan since Honda in 1963.  It bases its current cars on Nissan and other Japanese car manufacturers.
In the early years, it produced many tiny vehicles and microcars like the 'BUBU Shuttle-50', which was a production series of 3-wheeled microcars . . .
***************
***************
. . . and the 1998 – 2007 MC and K-Series of 4-wheeler microcars.
It was marketed under the slogan 'Microcar for your life'.
The 50cc MC-1 had a top speed of 50kph (31mph) from its 6hp engine.  The 1998 base price was ¥385,000 (£2,767), rising to ¥480,255 (£3,452) in 2005, the engine shrank 1cc to 49cc !!  It was also available as an EV (Electric Version).












There were two variants, the 'MC-1 T', 10 kgs heavier than the standard MC-1 @ 170 kg / 374.8 lb with a delivery box mount and a luggage bed.  The mechanicals were the same as the MC-1.  The second version was the 'MC-1 EV', this version was powered by a DC electric motor which produced 0.59 kilowatts (0.8 hp) of power.  There were three different motors each with a different wattage: 72V, 48V, and 12V motors.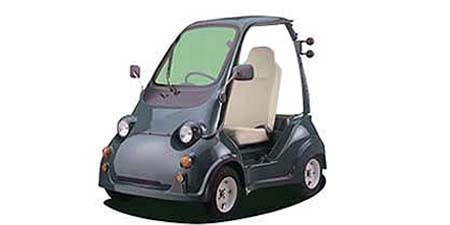 Mitsuoka wanted to make the MC-1 easy to take care of.  There is even an owner's manual on Mitsuoka's website.  The interior is simple, a large speedometer with some sensors, gear shifting stick, steering wheel and a seat.  The body is mostly plastic.  The doors are fabric.  For 2004, the MC-1 was slightly redesigned by adding a slit under the headlights.  The MC-1 is not very safe as most of the car is plastic and fabric.  It has no airbags, but it does have a 3-point seatbelt.
[ Specifications ]
Class: Microcar               Layout: Mid-engine
Engine: 50 cc 1-cylinder               Transmission: CVT
Length: 1,755 mm (69.1 in)               Width: 1,080 mm (42.5 in)
Height: 1,470 mm (57.9 in)               Curb weight: 160 kg (352.7 lb)
Maximum power: 6.1ps (4kW) @ 6,500 rpm
Takara Tomy (Tomica) is a Japanese toy manufacturer, whose products are sometimes referred to as the Matchbox toys of Japan.
Mitsuoka MC-1 'Convoy 88' 
 (Minica Model No121)
In 2004, the Minica Model No121 Mitsuoka 'Convoy 88' was available for a limited period from Mitsuoka Motors.  It was given to purchasers of the real electric single seater vehicle (above) which featured a retro Citroen H Van front end and side panels.  A limited number of 35 units were produced.
The K-2 is loosely based on the design of the Messerschmitt FMR Tg500.
The K-3 is a retro-pastiche generic sports car in the style of the Lotus/Caterham 7.












The K-4 was inspired by the Alfa Romeo 159 Alfetta Grand Prix racing car, and was available in red, yellow, light & dark blue.
***************
***************
[ THE   MITSUOKA   RAY ]
[1996 – 2004]
 
Mitsuoka Ray (光岡レー)
The 1st generation Mitsuoka Ray was a heavily modified Autozam / Mazda Carol.  It was also known as a Mitsuoka 'Rei'.  The car started out with three doors, however, in 2002 Mitsuoka changed it to a 5-door car.  The price ranges from ¥911,000 (£5,734) to ¥1,359,750 (£8,553).   Mitsuoka described the Ray as 'like a dignified and graceful flower'.  The 660cc 3-cylinder 43 cu in (0.7 L) engine developed 52-58hp and was available with either a 3-speed automatic or a 5-speed manual gearbox.
It received mixed reviews, earning a place on the 'Ugliest Cars in Britain' list due to problems with quality and design.   However, it was voted the most attractive car in Australia !!  The Ray went to three generations and loosely resembled the Riley Elf and Wolesley Hornet of the 1960's.  It was also said that 'This kind of beauty is a transcending beauty' !!
The 1996-1999 1st Generation Ray is based on the Autozam Carol:












The 1999-2000 2nd Generation Ray is based on the Mazda Carol:












The 2002-2004 3rd Generation Ray is based on the Daihatsu Mira Gino :


















[ Specifications ]
Class: Kei car               Layout: FF, AWD
Engine: 3-cyl, 0.7 L (43 cu in)     Transmission: 3-spd auto, 5-spd man
Length: 3,350 mm (131.9 in)               Width: 1,395 mm (54.9 in) 
Height: 1,420 mm (55.9 in)               Curb weight: 635–810 kg (1,400-1,786 lb)
***************
[ Mitsuoka Like ]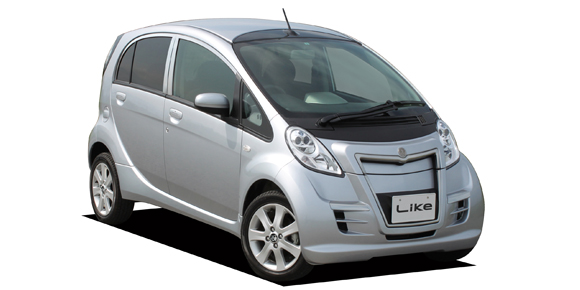 [2010  –  2012]
The Like is a rebadged Mitsubishi i-MiEV (Mitsubishi innovative Electric Vehicle) electric car built to kei car specifications.  It gets its name from the Romanisation of the Japanese term 'Raiku' (雷駆) 'Thunder Drive', which is a combination of the characters for Thunder (雷) and Drive or more specifically Drivetrain (駆).  It initially cost ¥5,755,612 (£41,378), but with a later applied tax credit, the cost was reduced to a very reasonable¥1,522,621 (£10,946).  It was discontinued in 2012.
The i-MiEV rear platform: 
The 5-door hatchback is an electric version of the Mitsubishi i, which was the first car since the 1960's to employ a rear-midship setup, with the engine behind the passengers.
Rear- midship setup: 
The design was said to improve safety and interior passenger space, without increasing the overall exterior dimensions.  The car was sold in Europe as the Peugeot iOn and the Citroen C-Zero.
[Specifications]
Class: Kei class               Body style: 4-door
Engine: Electric motor               Battery: Lithium-ion Battery
Length: 3,570 mm (140.6 in)               Width: 1,475 mm (58.1 in)
Height: 1,610 mm (63.4 in)               Curb weight: 1,120 kg (2,469 lb)
***************
[ T h e   M a n y   F a c e s   o f   M i t s u o k a ]
******* 終 *******