"Mitsubishi"
***** (K|C|F) *****
 [ O T H E R          C A R S ]
Mitsubishi Motors Corporation ( 三菱 自動車 工業 株式 会社 ) Mitsubishi-Jidōsha-Kōgyō-KK
Models:   
eK

;   

i

;   i MiEV  & 

Toppo

.

#########################
   Mitsubishi     
[ 
2001~ 

]

The Mitsubishi eK is based on the long-running Mitsubishi Minica, and was first introduced on October 11th 2001 priced at ¥ 910,000 to ¥ 1,108,000.  The name 'eK' stands for 'excellent Keijidōsha' ( excellent kei-car ).
    'Mitsubishi  eK  Active'    
The 1st Generation 'eK' was available either as an 'eK Wagon' ( October 11th 2001 ), 'eK Sport' ( September 2nd 2002 ), 'eK Classy' ( May 26th 2003 ) or as an 'eK Active' ( May 25th 2004 ).  A facelifted 'eK Wagon' was introduced on December 20th 2004.  On December 20th 2005, the 'eK Classy' was discontinued.
    'Mitsubishi  eK  Wagon'    
The 2nd Generation eK Wagon and 'eK Sport' were released on September 13th 2006, priced from ¥ 913,500 to ¥ 1,484,700.  The eK Active was discontinued at the time of the 2nd Generation's launch.  A facelifted eK Wagon and eK Sport were released on August 21st 2008.
    'Mitsubishi  eK  Sport'     
The 3rd Generation eK Wagon and eK Sport, now 'eK Custom', were released on June 6th 2013.  Immediately upon its release it was the recipient of the 'Good Design Award' by the Japanese Ministry of Economy, Trade and Industry in 2001.  While the initial sales target was 10,000 units per month, it sold 13,000 in its first 4 days, and 20,000 by the end of October 2001.  It is Mitsubishi's highest volume model in the Japanese domestic market, and total sales to 2005 were approximately 480,000.  In Japan, it was sold at a specific retail chain called 'Car Plaza'.
    'Mitsubishi  eK  Custom'    
In April 2016, Mitsubishi Motor Corporation ( MMC ) admitted that its employees had falsified fuel-efficiency data for the eK Wagon and eK Space, the resultant scandal culminated in Nissan acquiring a controlling interest in MMC the following month.
  The "Mitsubishi eK" in

Computer Games

:
Mitsubishi eK in Racing Battle: C1 Grand Prix 2005: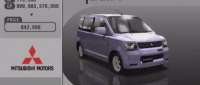 #########################
    Mitsubishi  '
i

'   
[ 
2006 – 2013 

]
    'Cutaway  engine  view'    
The Mitsubishi 'i' was made at the Mizushima Plant at Kurashiki in Okayama Prefecture.  First released in January 2006, 28 months after its debut at the 2003 Frankfurt Motor Show, it is the first 4-door automobile since the 1960's to employ a rear midship set-up with the engine behind the passengers, in an attempt to improve safety and interior space without enlarging the overall exterior.
    'Early  design  sketch'    
The innovative layout and styling of the 'i' proved an immediate critical and commercial success, exceeding Mitsubishi's initial sales targets by 20% and winning 13 awards in its first year.  Although designed with the Japanese kei-class in mind, the attention it generated led to its subsequent introduction in right-hand drive ( RHD ) markets in Asia, Oceania & Europe.  It is also used as a basis of the 2009 i-MiEV battery electric vehicle.
    'The  Prototypes'    
Mitsubishi claimed that 'i' could represent the owner ( 'I' being the nominative personal pronoun ) as an encouragement to personal expression, or 'innovation, intelligence & imagination', keywords in the car's development.  It was also a play on the Japanese word for love ( 愛 ) pronounced 'ai'.
Three individual models, or grades, were available on the car's release in 2006: 'S, M, & G', in ascending order of price.  They all shared the same 5-door hatchback body style and turbocharged engine, but offered differing levels of options and standard equipment.  In 2007 the base 'S' model was given the new naturally aspirated power plant, and was positioned below the 2 new grades, 'L and LX', whose engine it shared.
    'The  Hello  Kitty  special  edition'   
The 'i' was released for sale on January 24th 2006.  Priced from ¥ 1,281,000 to ¥ 1,617,000, Mitsubishi initially aimed for 5,000 cars per month within the domestic market, and managed to exceed its target in its first month by over 1,000.  By the end of 2006, approximately 37,000 had been sold.  The company has already exported the 'i' to Singapore, Brunei, Hong Kong, & New Zealand, where like Japan they drive on the left, and introduced it to the UK on July 1st 2007, with a price of £9,000 and a target of 300 sales per year.
  The "Mitsubishi i" in

Computer Games

:
Mitsubishi i in Dejimon Sutōrī Saibā Surwūsu (Digimon Story: Cyber Sleuth) 2015: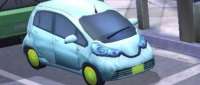 2003 i in Gran Turismo 4: Prologue 2003: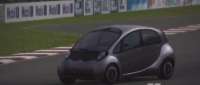 '03 i in Gran Turismo 4, 2004: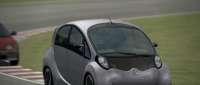 '03 i in Gran Turismo 5, 2010: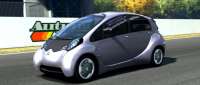 #########################
   Mitsubishi  '
i

'  MiEV   
[ 
2009~

]

Mitsubishi has given the 'i' a prominent role in the company's alternative propulsion research projects, developing a version using their MiEV ( Mitsubishi innovative Electric Vehicle ) technology in 2006 and exhibited at the '22nd International Battery, Hybrid and Fuel Cell Electric Vehicle Symposium & Exposition' in Yokohama.  MMC provided 3 power companies with vehicles in 2006 & 2007 in order to evaluate how a 'fast-charge' infrastructure might be developed for electric vehicles.  Fleet testing by 5 power companies was conducted later in 2007, with a view to future public sales between 2008 & 2010.
    'On  street  charging'    
The Mitsubishi 'i' MiEV electric car was launched in Japan for fleet customers in July 2009 and for the general public in April 2010.  Sales to the public in Hong Kong began in May 2010, and a trial began in Australia in September 2010.  Sales in several European countries began in late 2010 and between December 2011 and March 2012 for the United States, West & East coasts, respectively.  The 'i' won the 2007 Car of the Year Award from the Japanese Automotive Researchers & Journalists Conference ( RJC ), and 2 other Car of the Year Awards.
Rebadging: The 'i' is also badged as a Citroen C-Zero / Peugeot iOn in Europe.  In The US, the MiEV is dropped to just 'i'.
In Japan the 'Mitsuoka Like' is also a rebadged i-MiEV.
  The "Mitsubishi i MiEV" in

Computer Games

:
Mitsubishi i Miev in Castle: Dangerous Game 2014: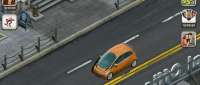 2009 i-MiEV in Gran Turismo 5, 2010: 
  '09 i-MiEV in Gran Turismo 6, 2013: 
#########################
     Mitsubishi  'Toppo'  
[ 
1990~

]

The Mitsubishi Toppo is a light recreational vehicle ( RV ) produced by Mitsubishi Motors from 1990 until 2004, and is derived from their Mitsubishi Minica kei-car.  The name is a mix of the English 'top' ( roof ) and the Japanese 'noppo' ( tall ).  It is assembled at the Mizushima Plant at Kurashiki in Okayama Prefecture.
    'Mitsubishi  Minica  Toppo'     
  'Minica  Toppo  Town  Bee' ( retro )  
Originally named the Mitsubishi Minica Toppo, a retro-styled variant was introduced in 1996 called the Mitsubishi Minica Toppo Town Bee.  In 1998 a new generation was launched, now referred to as the Mitsubishi Toppo BJ ( Big Joy ).
The Toppo BJ:    & Toppo BJ Wide: 
2001

Mitsubishi Toppo BJ '

Guppy

' trim package: 
A larger derivative, the Mitsubishi Toppo BJ Wide was also introduced in 1999.  The Toppo was replaced by the new eK in 2001, although it was sold alongside the eK until being discontinued in 2004.  The Toppo was re-introduced in 2008, now referred to as the Mitsubishi Toppo.  In Japan, it was sold through the 'Galant Shop' retail chain.
#########################
Popular Culture: The AWD Mitsubishi Toppo appears alongside several of its kei-car contemporaries in Kat's Run: Zen-Nippon K Car Senshuken for the Super Famicom.
   The "Mitsubishi Toppo" in

Computer Games

:
The Toppo in Sega GT (2000):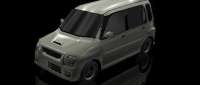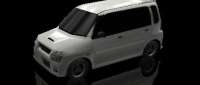 ***** (終) *****