"Daihatsu"
 Spotlight on 'Other Cars'
  (ダイハツ)  
[Daihatsu Motor Co. Ltd. (ダイハツ工業株式会社) Daihatsu-Kōgyō-Kabushiki-Kaisha]
Daihatsu: Cuore; Esse; Naked; Opti; Sonica; Tanto; Terios Kid & Wake.
*********************************
    'Cuore'
[ The Max / Cuore ]
1977 Max Cuore: 
New bumpers meant length and width were up marginally to 3,120 mm (122.8 in) and 1,305 mm (51.4 in).  Claimed top speed was 110 kph (68 mph), somewhat lower than that of the 360.  With Honda withdrawing from the kei class market, Daihatsu became the only maker to offer a kei car featuring front-wheel drive.  The Van used the front end and front doors from the 2-door Max, but with a squarer rear end featuring a split tailgate divided horizontally and a folding rear seat which allowed for a flat loading floor.
1981 Max (Cuore) 4-door: 
In July 1977, the name was changed to Max Cuore, chassis code L45, although Vans remained L40V.  The new name also heralded a wider body shell, up to 1,395 mm (54.9 in) which also increased the length to 3,160 mm for the sedan and 3,165 mm for the wagon.  By March, 1979 the car was renamed 'Daihatsu Cuore', though it still carried discrete 'Max' badging, along with a power upgrade to 31 PS (23 kW) @ 6,000 rpm.  Torque increased to 4.2 kg·m (41 N·m) for the engine, which now featured the DECS (Daihatsu Economical Clean-up System) emissions control system to meet the stricter 1978 emissions standards.  The front grille and emblems were changed while the seats were improved and new colours, inside and out, were now available.  The Cuore Van, available in Standard, DeLuxe, and Super DeLuxe grades, now had 29 PS (21 kW) on tap.
In most of Europe, the car was simply called Daihatsu Cuore, although it retained the 'Max' prefix in some markets.  Export versions received the same lower powered engine as the Cuore Van did in Japan.  1980 saw the introduction of the parallel commercial series 'Daihatsu Mira', while the name 'Max' finally disappeared entirely from the Cuore.  In Japan, the 1979 Max Cuore was available as a Standard 2-door, Deluxe 2 / 4-doors, Custom 4-door, Hi-Custom 2 / 4-doors, and Hi-Custom EX 4-door.  The top of the line Hi-Custom EX was new for 1979.
*************************
  The "Daihatsu Cuore" in Computer Games:
The Daihatsu Cuore in Radikal Bikers (1998):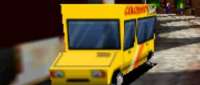 '90 Cuore in Gran Turismo 2 (1999):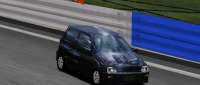 '98 Cuore in Gran Turismo 2 (1999):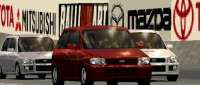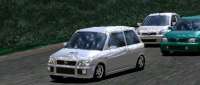 Cuore in Clipping Point (2007):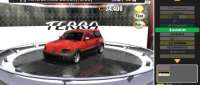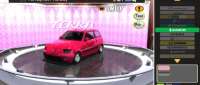 '97 Cuore in Gran Turismo (2009):
  '97 Cuore in Gran Turismo 3 A-Spec (2001):
  '97 Cuore in Gran Turismo 4 (2004):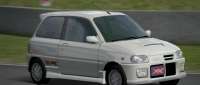 '97 Cuore in Gran Turismo 5 (2010):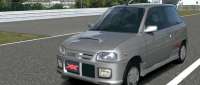 Gran Turismo 6 (2013):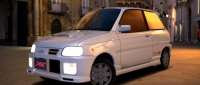 *********************************
    'Esse'
[2005 – 2011]
The Daihatsu Esse is a Japanese kei car launched in December 2005.  At launch it was the cheapest new car in Japan.  Its former price range was ¥682,500 – ¥1,123,500 (£5,129 – £8,433).  The 5-door hatchback has 4-seats and a 658 cc, 40 cubic inch engine and is available with a manual  or automatic gearbox.  According to Daihatsu, "Esse" means "Eco, Smart, Simple & Easy".  It was available as a 5-door hatchback in two distinct styles, the Esse and the Esse Custom.  The Esse was available as "Eco, D, L, and X" in FWD and 4WD.  The Esse Custom was added in November 2006 and was available as Custom and Custom 4WD.  Its main rivals were the Suzuki Alto, Subaru R1, Mitsubishi eK and Subaru Pleo.  Production ended in September 2011 and it was replaced by the Daihatsu Mira compact.
*********************************
  'Naked'
Only available in Japan the Daihatsu Naked was presented at the 1999 Tōkyō Motor Show.  It was built between 2000 and 2004 and was available with a 659cc petrol engine and either 2 or 4 wheel-drive.  The styling included features such as ridges in the doors and exposed hinges and bolts, designed to make the car appear rugged.  The Naked was an early example of styling features from off-roaders being used on road cars.  The Naked is based on the Daihatsu Move bodyshell, although with a different fascia, body and door trim, they come in a variety of trims and optional accessories.
  The Daihatsu Naked  
Recently, a hybrid version which uses both petrol and electricity has been produced.
  The "Daihatsu Naked" in Computer Games:
The Daihatsu Naked in Choro Q HG 2 (Everywhere Road Trip) (2002):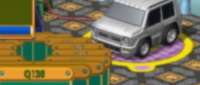 Naked in Choro Q HG 4 (Choro Q) (2003):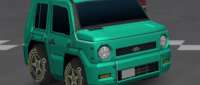 *********************************
  'Opti'
1st Generation [1992 – 1998]
The Daihatsu Opti chassis code L300S was available in either front or 4-wheel drive from 1992 onwards.  It was based on the Daihatsu Mira L200 chassis and was produced in either 3-door or 5-door hatchback form.
 L300S 
'YM Mobilemates', a branch of  the Yamaha Motor Company, announced it was to produce the 'Ami', a micro-coupe with a 'Ferrari F40' inspired design.  The Ami was an Opti variant with a dummy mid-engine body design.
The Ami came with the same engine as the Opti's SOHC or DOHC 12-valve 55 bhp engine.  It cost 2,150,000¥ – 2,545,000¥  which was about the cost of three standard Opti cars !!  Six hundred were planned to be produced but only three were believed to have been ordered.  The Ami was only sold in Tōkyō via an event ticket supplier called 'Ticket Pia'.
2nd Generation [1998 – 2002]
The 2nd Generation Opti was launched in November 1998.  It was based on a modified Daihatsu Mira L500 chassis. It was available as a 4-door saloon in two different styles, 'Opti' and 'Opti Classic', the latter being launched in 2000.  It was discontinued in 2002 but was not replaced until 2005 (by the Daihatsu Esse).
The high-performance model, called the Opti Aerodown Beex (above), was only sold in Japan.
  The "Daihatsu Opti" in Computer Games:
1997 Daihatsu Opti in Gran Turismo 2, 1999:
  1998 Opti in Gran Turismo 2, 1999:
  The Opti in Sega GT 2000: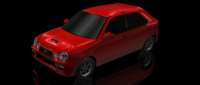 ************************************************
    'Sonica'
[2006 – 2009]
Daihatsu began producing the Sonica in 2006, after having revealed it as a concept car named the "SK Tourer" earlier in the same year.  It was available on the Japanese market for ¥1,207,500 – ¥1,559,250 in three levels of trim; "R, RS and RS Limited".  The Sonica was discontinued in April 2009 without a direct successor .
*********************************
    'Tanto'
[2003 ~]
The Daihatsu Tanto was introduced at the 2003 Tōkyō show as a concept vehicle based on the Daihatsu Move's 'tall' body style.  The car was introduced into the Japanese market in 2003.  Among the main features of this car is an ordinary right side rear door while on the left side, the rear door is a sliding door without an intermediate pillar.  A Tanto Custom model was added in July 2005.
The 1st Generation Tanto was introduced in 2003 and ran until 2007.
1G: 
In 2005, the Tanto FCHV (fuel cell hybrid vehicle) was introduced at the Tōkyō Motor Show.  Based on the Tanto compact MPV currently in production, this prototype has an added hydrogen tank and electric motors.
FCHV: 
2G: 
 Exe: 
 Custom: 
The 2nd Generation Tanto was exhibited at the 2007 Tokyo Motor Show and production started in December 2007 and is still in production today.
*********************************
    'Terios Kid'
The kei-car version of the Daihatsu Terios the 'Terios Kid' was only available in Japan.
It used the following engines:
J111G ( EF-DEM ) 1998-2005 Light pressure turbo 659 cc 4WD 60 PS (44 kW; 59 hp)
J111G ( EF-DET ) 1998- Inter cooler turbo 659 cc 4WD 64 PS (47 kW; 63 hp)
J131G ( EF-DEM ) 1998-2005 Light pressure turbo 659 cc 2WD 60 PS (44 kW; 59 hp)
J131G ( EF-DET ) 1998- Inter cooler turbo 659 cc 2WD 64 PS (47 kW; 63 hp)
They were available with either Manual or Automatic gearboxes.
2002 Daihatsu
Terios Lucia
The 'Terios Lucia' limited edition used the J111G / J131G for 2002 only without the spare tyre.
  The "Daihatsu Terios Kid" in Computer Games:
The 1998 Daihatsu Terios Kid in Gran Turismo 2, 1999: 
    'Wake'
The Daihatsu Wake was launched on the 10th November 2014.  It has an interior cabin height of 1,455 mm (57.3 in), the highest in the current kei-class.
The engine is either the KF-VE type 658cc DOHC straight 3 DVVT or the KF-DET 658cc DOHC IC Turbo. Both types use a  CVT gearbox .
*************** (終) ***************