"Mitsubishi Pajero Mini"
***** (K|CF) *****
[ The  Mitsubishi      Pajero  Mini ]
( 
1994 – 2012 

)  Mitsubishi  Pajero  Mini  ( 平成

6 – 24

年 三菱 パジェロ·ミニ )
Mitsubishi Motors Corporation  

   
( 
三菱 自動車 工業 株式会社 
)
The Mitsubishi Pajero Mini, was produced from December 1994 to June 2012 at the Mizushima Plant at Kurashiki in Okayama Prefecture.  It is built in the style of a Mini-SUV ( Sport Utility Vehicle ).  Based on the platform of the Mitsubishi Minica, the Pajero Mini was styled as a miniature version of the company's successful Pajero SUV, in response to the SUV craze of the late 1980's and early 1990's.
( 
1994 

) Mitsubishi  Pajero  Mini: 
The Pajero is known as a Shōgun in the UK and is comparable to the better known Suzuki Jimny.   Compared to the full-sized original, the Pajero Mini featured a shorter wheelbase, 4WD, and a choice of naturally aspirated or turbocharged 660cc 4-cylinder engines.  It's thought that around 250,000 were produced during its lifetime.
Engine  Types

:

4A30 659cc I4 ( inline-4 );     4A30 659cc I4 ( MVV );     4A30T 659cc I4 ( Turbo )

The popularity of the Pajero inspired Mitsubishi to create several limited editions, including the 'Iron Cross', 'Desert Cruiser', 'White Skipper' & 'Duke'.  In October 1998 the kei-car regulations were again updated, and the Pajero Mini was widened and lengthened.
' Iron Cross V ':
 ' Desert  Cruiser '         
' White  Skipper ': 
   ' Duke '   
Premium Selection  ( Final Anniversary Model )
[ O v e r v i e w ]
Wheelbase

: 2,200 mm ( 86.6 in )     

Length

: 3,295 mm ( 129.7 in )
Width

: 1,395 mm ( 54.9 in )                  

Height

: 1,630 mm ( 64.2 in )
Curb weight

: 859 kg ( 1,874 lb )
& what about . . .
The  
2000
  Snoopy  Special  Edition 
!! . . .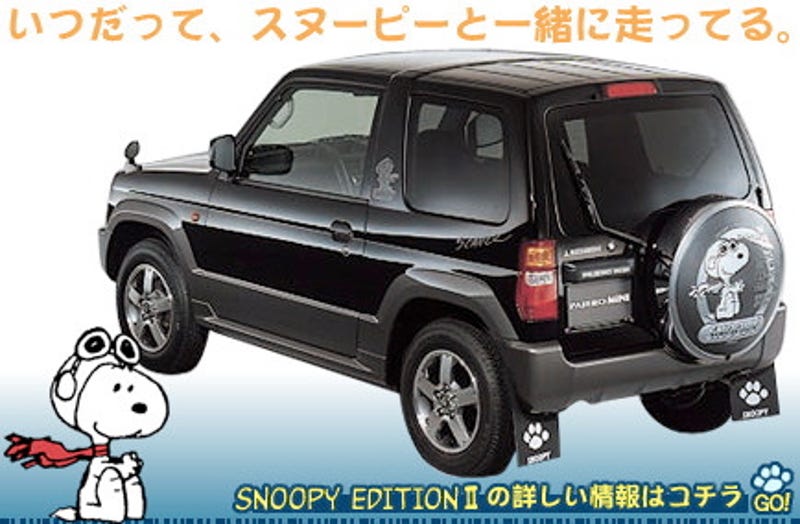 . . . With drawings of Snoopy as the flying ace, on the wheel hub covers, spare tyre holder, speedometer, tachometer, pillars & door trim.  There's also an autograph by Snoopy creator Charles M. Schultz on the outside bodywork.
( Production of the

Mitsubishi Pajero Mini

ended in June
2012

 )
[  

P I C T U R E

       

G A L L E R Y

  ]
#########################
#########################
[

The  Nissan      Connection

]
The Nissan Kix  (
日産 キックス

)

Since 2008, Mitsubishi has produced the Nissan Kix, an OEM ( Original Equipment Manufacturer ) version of the Pajero Mini, expanding a similar deal already in place for the Mitsubishi eK  /  Nissan Otti.  In Japan, it was sold at the retail chain 'Galant Shop', which was a sales channel for specific Mitsubishi models.
   Nissan  Kix   
  Nissan  Kix  RS   
[

The   

Colour   Range

]
#########################
#########################

  The 'Mitsubishi Pajero Mini' in Computer Games:
1997 Gran Turismo 2 (1999);  '98 Gran Turismo 2 (1999)
#########################
Incidentally: 'PAJERO' is a Spanish word with two meanings.  It's a slang word meaning He who fiddles with himself for sexual gratification !!, and it is also unknowingly used by a major automobile manufacturer who took the more academic translation of the word to mean Straw Dealer !!
****

*

 (終) *****