"4×4's"
***** (K|C|F) *****
 's   &   Off-roaders
Four-Wheel Drive ( 4WD ) vehicles are usually referred to as 4×4's, and sometimes as 'All-Wheel Drives' ( AWD ).  4WD typically refers to a set of specific components and functions, where four driven wheels are used to enable increased traction on off-road surfaces.  Modern vehicles often use a transfer box which allows for switching from 2 to 4WD, this can be done either manually or automatically.
[ I n   t h e   B e g i n i n g ]
' 

H o p e        S t a r 

'
In 1953, the 'Hope Motor Company' pioneered the mini jeep, the 'ON360' powered by a Mitsubishi 356cc 2-stroke engine.  Then in 1967, it became available in 4WD, although production figures were very low, only about 15 examples were ever made.  The company existed until April 1974 when it was bought out by Suzuki.  The company was first offered to Mitsubishi but they declined the offer.  The design continued today by Suzuki as the 'Jimny', has become very successful, being sold around the world.  It actually filled a gap in the market that had not been identified before.
#########################
#########################
'

S U Z U K I          J I M N Y 

'
Suzuki  Jimny  1st  Generation  ( 
1970 – 1981 

)

The Suzuki branded 4WD, the 359 cc air-cooled 'LJ10' ( Light Jeep 10 ), was first introduced in 1970.  Having bought the licenses from Hopestar, the Suzuki name was used before full ownership was actually acquired.  This was later followed by the 1973 liquid-cooled 'LJ20' which gained 3hp in the process.  The 'LJ50' which had a larger 539cc 2-stroke in-line 3-cylinder engine and bigger differentials was originally targeted towards the Australian market, more export markets were soon to follow.
LJ10   LJ20   LJ50 
Jimny  55  ( SJ10 )        ( LJ50 engine )
Suzuki  Jimny  2nd  Generation  ( 
1981 – 1998 

)
Jimny  550      ( SJ30 )
The SJ30 began production in May 1981 at the Hamamatsu plant in Japan.  It was available with either a 550cc or 660cc 3-cylinder engine.  The Jimny 55 was the last 2-stroke engine to be built in Japan.  The 2-stroke had been favoured by Suzuki and off-roaders due to its superior torque.  With the withdrawal of type approval in November 1987, the F5A ( JA71 ) engine took its place.
JA71         JA11   
The JA71 Jimny 1G was replaced in March 1990 by the new 657 cc JA11 2G as new kei category regulations came into effect.
JA12        JA22   
The JA22 received the recently developed and more powerful K6A engine.  The JA12 and the JA22 both had the same power output, 64hp ( 48kW ).
Suzuki  Jimny  3rd  Generation  ( 
1998 ~

)
The JB23    
    

2012

models    
Suzuki presented the all new Jimny with a much more modern design at the 1997 Tōkyō Motor Show.  In 2012 the Jimny received a front facelift, giving it a more angular grille and front bumper, and including a bonnet scoop.
#########################
#########################
'

 M a z d a    AZ           O f f r o a d

'
   Mazda  AZ-Offroad   
The Mazda AZ-Offroad is an OEM version of the Suzuki Jimny, it has manually operated 4WD as standard with low range and auto-locking front hubs, automatic transmission is an optional extra.
#########################
#########################
  The 'Suzuki Jimny' in

Computer Games

:
1992 ゼロ·ヨン·チャンプ II (Zero4 Champ II) (1993);  Kat's Run – Zennihon K Car Shenshuken (1995):
  3-D Dinosaur Adventure (1996);  Wangan Midnight (2002);  '82 Uchû Keiji Tamashii (The Space Sheriff Spirits)(2006):
  Drift City (2007);  Mafia Wars (2008):
  Superstars V8 Next Challenge (2010): 
  Fireburst (2012);  MXGP:The Official Motocross Videogame (2014):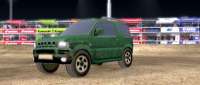 Drift City Mobile (2015):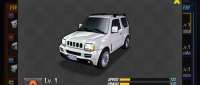 MXGP 2:The Official Motocross Videogame (2016):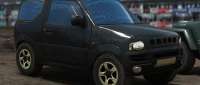 #########################
[  J I M N Y           G A L L E R Y  ]
#########################
' 

M i t s u b i s h i    P a j e r o  M i n i

'
 The Mitsubishi Pajero Mini, known as a 'Shōgun' in the UK, is in similar vein to the Jimny, it was manufactured from December 1994 until June 2012.  It was a miniature version of the successful Mitsubishi Pajero SUV ( Sports Utility Vehicle ).
The popularity of the Pajero inspired Mitsubishi to create several limited editions, including the 'Iron Cross', 'Desert Cruiser', 'White Skipper' & 'Duke'.  In October 1998 the kei-car regulations were again updated, and the Pajero Mini was widened and lengthened.
'Iron  Cross'
'Desert  Cruiser'    
'White  Skipper'
'Duke'    
Premium  Selection      ( Final  Anniversary  Model )
( Production of the

Mitsubishi Pajero Mini

ended in

June

2012

)
#########################
#########################
' 

N i s s a n        K i x

'
   The  Nissan  Kix  &  RS   
The Nissan Kix, is an OEM version of the Mitsubishi Pajero Mini, it was sold in a retail chain called 'Galant Shop' which is a specific sales channel for Mitsubishi models.
#########################
#########################
  The 'Mitsubishi Pajero Mini' in Computer Games:
1997 Gran Turismo 2 (1999);  1998 Gran Turismo 2 (1999).
[ P A J E R O          G A L L E R Y ]