"Miscellaneous"
***** (K|C|F) *****
T H E         S E C T I O N
Includes:  1) Re-badging;  2) Snippets;  3) Quirky Names;  4) Timeline
#########################
  [ 

Re-badging  

/  

Badge  Engineering

 ]
Rebadging sometimes called badge engineering is endemic in Japan, no more so than with kei-cars, especially the later one's.  It applies when alterations are made to a manufacturers badge, logo or manufacturers name / marque to an existing product and then subsequently marketing the variant as a distinct product.
Due to the high cost of designing and engineering a new model or establishing a brand, which may take many years to gain acceptance, it is much less expensive to rebadge a product than create one.  The costs of product development and manufacturing tools are therefore spread over more vehicles, resulting in greater economies of scale.
The term originated with the practise of replacing an automobile's emblem or badge in order to create a new model.  Besides badges and emblems, minor styling differences can occur such as differences to head and tail lights, front and rear fascias, and outer body skins.  More extreme examples often involve using different engines and drive trains.  There is currently a fad for replacing standard body panels with stylish retro designs, particularly the front ends.
See: The

Mitsuoka Ray

(below) in "Snippets"
Today, Mazda sell rebadged Suzuki's & Subaru's and Toyota offer rebadged Daihatsu's, Nissan offers rebadged Mitsubishi's & Suzuki's.
( The

sign

' > ' is used to mean 'is a rebadged'. . . )
The Mazda AZ-550 / Suzuki Cara > Autozam.     
 The Mazda / Autozam Scrum > Suzuki Carry.
 The Mazda AZ-Offroad > Suzuki Jimny.      
 The Mazda Carol > Suzuki Alto 6G.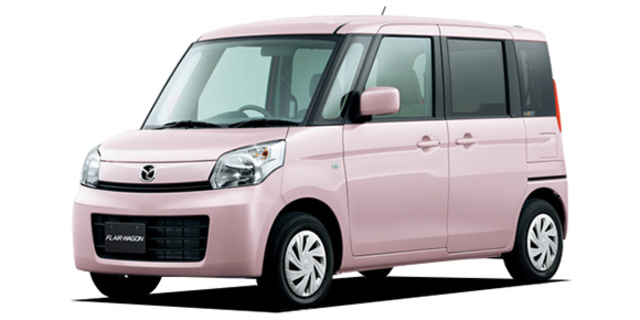 The Mazda Flair / Wagon > Suzuki Palette/SW.     
  Mazda Flair Custom Style > Suzuki Wagon R Stingray.
 The Mazda Laputa > Suzuki Kei.     
 The Mazda Spiano > Suzuki Lapin /Alto.
The Mitsubishi Minicab > Suzuki Carry/Every.     
 The Nissan Clipper > Mitsubishi Minicab.
 The Nissan Clipper / Clipper Rio > Mitsubishi Town Box.     
 The Nissan Dayz / Dayz Highway Star / Otti > Mitsubishi eK.
 The Nissan Kix > Mitsubishi Pajero Mini.     
 The Nissan Pino > Suzuki Alto 6G.
 The Nissan Roox > Suzuki Palette.      
 The Nissan Roox Highway Star > Suzuki palette SW.
 The Subaru Lucra / Custom > Daihatsu Tanto Exe / Custom.     
 The Subaru Pleo > Daihatsu Mira.
 The Subaru Stella 2G > Daihatsu Move.     
 The Toyota Pixis Epoch > Daihatsu Mira e:S.
 The Toyota Pixis Joy > Daihatsu Cast.     
 The Toyota Pixis Mega > Daihatsu Wake.
 The Toyota Pixis Space > Daihatsu Move Conte.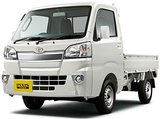 The Toyota Pixis Truck > Daihatsu Hijet.
 Toyota Pixis Van > Daihatsu Hijet Cargo.
(
P

.

S

. The term 'badge engineering' is a bit of a misnomer, as little or no engineering takes place

!!

 )

##################################################
   [ 

S n i p p e t s

 ]
 ( The Snippets section contains items of general interest, news and kei-anecdotes etc. )
( In no particular order )
 The name "Chantez" of Mazda Chantez, is the second-person plural present indicative of chanter, which in French means "to sing"!!
 The Gasuden name, means gas powered, from 'Gasu' (petrol) and 'Den' (power).
 In America the Subaru 360 advertising slogan was 'Cheap and Ugly does it' !!
 The name 'Tiatro' in the 'Nissan Tiatro for Dayz' is Italian for theatre.
#
 In America, a Fuji Cabin sold at auction for $110,000 (Not even a runner) !!
 The 'Dangan' of the Mitsubishi Dangan ZZ-4 is Japanese for 'Bullet'.
 Tony Davis inducted the Cony Guppy into his 'Motoring Hall of Shame'.
 Mitsuoka described the 'Ray' as 'This kind of beauty is a transcending beauty'.
 The Mitsubishi Minicab was originally only sold by the retail chain 'Galant Shop'.
 In Manga & Anime, 'minipato' is Janglish for mini patrol car !!
 The 1969 Subaru Young SS was nicknamed the 'Ladybug'.
 The 'Acty' in Honda Acty stands for 'Activity'.
 The 1971 Suzuki Fronte was designed by Italian designer Giorgetto Giugiaro.
 Kei-class trucks are known as 'kei-tora' from 'kei' meaning 'light' and 'tora' for 'truck'.
 Colin McRae drove a Subaru Vivio in the 1993 round of the African Safari Rally.
 The Suzuki Jimny off-roader is sometimes classed as a kei-truck.
 The Daihatsu Copen name is derived from a combination of 'Coupé' and 'Open'.
 The name Mazda is derived from its founder 'Matsuda Jūjiro'.
 Mitsubishi is a compound of 'mitsu' (3) and 'hishi/bishi' (diamond).
 The 1991 Honda Beat was designed by Pininfarina the Italian design company.
 The 'eK' of Mitsubishi eK stands for 'excellent Keijidōsha' (excellent kei-car).
 The Yamaha Ami based loosely on the 'Ferrari F40' was produced by YM Mobilemates and is actually a rebadged Daihatsu Opti Mk1.
 The Hope-Star Unicar slogan was 'The people has many dreams as to the light vehicle' !! 
 The 'Sandal' of the 1947 Auto Sandal refers to a type of shoe or flip-flop.
 The Honda Z was actually made by the Yachiyo Industry Co.
 The 'N' in Honda N360, stands for 'norimono' which is Japanese for 'vehicle'.
 Mitsuoka also described the 'Ray' as 'like a dignified and graceful flower'.
##################################################
   N A M E S . . .
How about these:   Daihatsu Naked;    Daihatsu Opti Aerodown Beex;    Honda N-Box Slash;    Honda Life Dunk;    Honda That's;    Honda Vamos Hobio Dog;    Mitsubishi Lettuce;    Mazda Carol Me Lady;    Mitsubishi MUM 500 Shall We Join Us;    Nissan Dayz Roox;    Nissan Teatro for Dayz;    Suzuki Every Joy Pop Turbo !!
Suzuki deserve special mention for the :   Suzuki Alto Beam;   Alto l'Èpo P2;   Alto With;  &  the  Alto Works Turbo F Limited ie/s.
##################################################
  [

The

  

Kei – Timeline

 ]
( The

Timeline

is a chronological list of facts & news items as they occurred. )
2016 June:  Daihatsu becomes a totally owned subsidiary of Toyota.
2016 May:  The resignation of Mitsubishi Motor Corporation ( MMC ) President Tetsuro Aikawa was announced and Nissan acquired a controlling interest in MMC.  It now hoped to draw a line under the fuel scandal of 2006.
2015 April 2nd:  Suzuki is recalling two million vehicles across the globe, because the ignition switches may begin to smoke.  This recall is limited to the Japanese, European and Australian markets.  Affected vehicles were built between 1998 and 2009.  There have been no reports of injuries or accidents due to the 67 reported incidents, all of which come from the Japanese market.
2015 May 30th :  Honda rolls out production of the S660 Roadster in Japan.  The new S660 adopts the same 660cc inline-3, but spins it around to mount it amidships and adds a turbocharger.  It's got a roll-up canvas roof and a 2-tone cabin that gives driver and passenger seats of different shades.  45/55 front-rear weight distribution promises to keep it fun but friendly, with brake  based torque vectoring to keep it all under control.
2012 April 6th:  The Daihatsu Copen, Japan's last kei convertible is ending production.  After 10 years of production, there just aren't enough orders coming in to justify its continued production.
2011 April 14th:  50.6% of households in Japan now own a kei-car.  For the first time since 1986, more than 50% of households in Japan own at least one kei category vehicle. The Japan Mini Vehicles Association (JMVA) began tracking the mini vehicles back in 1986, and this is the highest level of ownership ever.  Long may it continue.
2011:  Toyota launched its first minicar, the Pixis Space, which is a rebadged Daihatsu Move.
2006:  Mitsubishi partner Nissan found discrepancies between Mitsubishi information and actual fuel consumption figures while working on new kei-cars for both companies, most notably the eK Wagon, eK Space, Nissan Dayz and Nissan Dayz Roox.  Mitsubishi management blamed the kei-car development department and after further investigation found out that this had been going on for the past 25 years and not since 2002 as previously thought.
1998 October 1st:  660cc Max Power: is now 47kW ( 64PS,  63hp ) Passengers: 4; Load: 350kgs ( 771.6lbs ).
1998 October 1st:  Max Length: 3.4m ( 11.2ft ) Width: 1.48m ( 4.9ft ) Height: 2m ( 6.6ft ).
1990 – Present:  660cc era engine size begins.
1990 March:  Max Power: 47kW ( 64PS,  63HP ) Passengers: 4; Load: 350kgs ( 771.6lbs ).
1990 March:  Max Length: 3.3m ( 10.8ft ) Width: 1.4m ( 4.6ft ) Height: 2m ( 6.6ft ).
1988:  Toyota buys a 51% controlling interest in Daihatsu.
1981:  Total sales achieved 1,229,809 units for cars and commercials.
1980:  Nearly 17% of exports went to Europe, Chile took nearly 25%.
1980:  Exports: climbed 80.3% ( to  94,301  units ), of which 77.6% were micro trucks.
1976 – 1990:  550cc era engine size.
1976:  Exports were up 74,633 ( 171%  year–on–year ).
1976:  Mazda withdrew from the kei-car market but not for commercials.
1976 January 1st:  Max Length: 3.2m ( 10.5ft )  Width: 1.4m ( 4.6ft )  Height: 2m ( 6.6ft ).
1976 January 1st:  Engine Size: increased to 550cc Passengers: 4; Max load: 350kgs ( 771.6lbs ).
1975 August 26th:  Overall length & width restrictions increased by 200 mm & 100 mm.
1975:  The license plate size was increased to 330×165mm yellow & black.
1975:  Only 150,000 cars were made, 80% less than 1970 sales.
1974:  Honda withdrew from the kei-car market but not for commercials.
1970 July:  Power output peaked at 40PS ( 29 kW,  39 hp ) in the Daihatsu Fellow Max SS.
1970 January:  Disc brakes first became available on the Honda Z GS.
1970:  Sales increased, reaching a peak of 750,000.
1968 August:  Automatic transmission first appeared in the Honda N360.
1955 May:  The Ministry of International Trade and Industry ( MITI ) announces a promotional program called the 'People's Car'  Their executive summary of the foreseen car was described as, 'A 4-seater with a top speed of 100 kph, priced at ¥150,000 ( £1,145 ).
1955  April 4th:  Max Length: 3m ( 9.8ft )  Width: 1.3m ( 4.3ft )  Height: 2m ( 6.6ft ) 360cc 4-stroke.
1955:  Engine Size: increased to 360cc for 4-strokes and 2-strokes.
1951 August 16th:  Max Length: 3m ( 9.8ft ) Width: 1.3m ( 4.3ft ) Height: 2m ( 6.6ft ) 360cc 4str; 240cc 2str.
1950 July 26th:  Max Length: 3m ( 9.8ft ) Width: 1.3m ( 4.3ft ) Height: 2m ( 6.6ft ) 300cc 4str; 200cc 2str.
1949 – 1974 December 31st:  The license plate size is 230mm x 125mm white & green.
1949 -1 975:  360cc Era engine size.
1949 July 8th:  Max Length: is 2.5m ( 9.2ft ) and Max Width: is 1m ( 3.3ft ) Height: 2m ( 6.6ft ).
1949:  Engine Size: is 150cc for 4-strokes and 100cc for 2-strokes.
##################################################
  How  to  park  your  car  in  Japan !!
***** (終) *****