"Mitsubishi Minicab"
***** (K|C|F) *****
  [ 

T h e   M i t s u b i s h i   M i n i c a b

 ]  
Mitsubishi  Minicab
1966 ~

( 昭和

41

年

–

今日 三菱 ミニカブ )

   
"Defining  Versatility  on  a  Mini  Scale"
The Mitsubishi Minicab cab-over pickup truck and microvan were launched in 1966 and replaced the Mitsubishi 360 truck.  They were manufactured at the Mizushima plant at Kurashiki in Okayama Prefecture and were only available from a sales division of Mitsubishi called "Gallant Shop".  It is currently in its 8th Generation.  Generations 1-6 were manufactured by Mitsubishi from 1966 – 2014 and thereafter by Suzuki from 2014 to the present day. In December 2011, an all electric version the Minicab MiEV was offered, it is called a CMC Verica in Taiwan where it is sold by the China Motor Corporation.  The Minicab is still in production today, but only in the form of a rebadged Suzuki.
[

THE  MITSUBISHI  FUEL  MILEAGE  SCANDA

L ]
In early 2006, Mitsubishi partner Nissan found discrepancies between Mitsubishi information and actual fuel consumption figures while working on new kei cars for both companies, most notably the eK Wagon, eK Space, Nissan Dayz and Nissan Dayz Roox.  Mitsubishi management blamed the kei car development department and after further investigation found out that this had been going on for the past 25 years and not since 2002 as previously thought.  In May 2016, the resignation of Mitsubishi Motor Corporation ( MMC ) President Tetsuro Aikawa was announced and Nissan acquired a controlling interest in MMC.
#########################
[

T h e   F i r s t   G e n e r a t i o n

 ]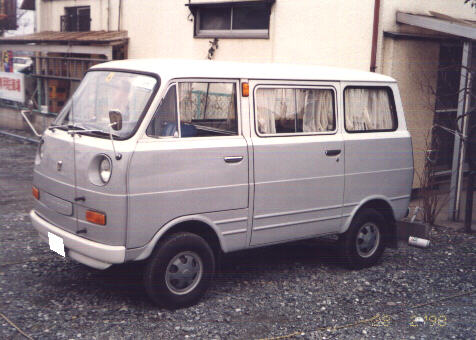 August

1966 – 1972

Minicab

( 
LT30 

)

1G

The LT30 Minicab shared the Mitsubishi Minica's 359cc air-cooled 2-stroke ME24 engine with a maximum output of 20PS.  It was available with cargo gates on three sides to simplify loading and unloading, and a wheelbase of 179cm.  It had a rigid rear axle with leaf springs.  A van version was introduced in 1968 with four differing levels of equipment, namely Super Deluxe Van, Deluxe Van, Standard Van and Route Van.

The T30 Truck was replaced in 1971 by the new Minicab EL.  The van version was kept in production but was renamed also as a Minicab EL and was updated with a dummy grill and headlight surround.  The air-cooled T30V with its 26PS ( 19kW ) engine was kept in production until 1976, with no further alterations except a 1974 adjustment to fit larger license plates.

#########################

#########################

In June 1971, the Minicab underwent its first model change, namely with the Minicab EL.  With a new interior, easier operation and a longer cargo bed, it was designated the T130 and was only available in truck form.  The old T30 carried on until the 3rd Generation was introduced in 1976.  Ride quality was dramatically improved with the introduction of front wishbone and rear leaf spring suspension.  The EL received all new bodywork with tiny rectangular headlamps.

#########################
[ 

T h e   

S e c o n d   G e n e r a t i o n

 ]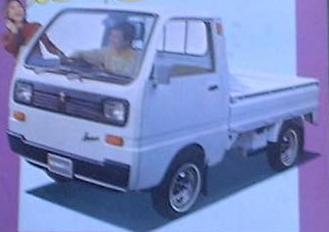 June
1971 – 1976

Minicab W ( 

T131 

)

2G

A panel van was added to the Minicab Truck lineup in 1972, when it also became the Minicab W.  "W" was the new designation for the new water-cooled 2G10 engine.  This model carries the T131 chassis code and is easily identified by its reworked front end and a return to round headlights.  It also carries a prominent "W" on the front beneath the left headlamp.  The grille was also altered and the headlights made larger, and in 1973 the "W" was replaced by a "Minicab" script.  For 1975, the Minicab received an emissions cleaned engine using Mitsubishi MCA ( Mitsubishi Clean Air ) technology, still with 28PS ( 21kW ).

#########################
[ 

T h e   

T h i r d   G e n e r a t i o n

 ]
   

The  Vulcan  S  engine

   
April
1976 – 1982
Minicab 5 Van 3G
In April 1976, the 3rd Generation Minicab was introduced.  In keeping with the changes in vehicle tax regulations, the Minicab 5 featured an increase in length, and adopted the enlarged 471cc Vulcan S engine as used in the Minica Saloon, but still with the same power as the 360.  The engine did not take advantage of the new regulations, which allowed up to 550cc, however it was only used in a short lived group of interim models.  The Minicab 5 also incorporated new features including a windscreen defroster, a central control box and a central ventilation system.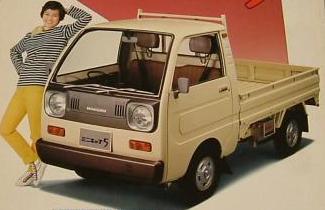 In 1977, the 3rd Generation Minicab became the Minicab Wide 55.  It was wider and received a full 546cc engine, with power increased to 29PS ( 21kW ).  It continued until 1979, when Mitsubishi decided to drop the "Wide 55" name, as the market was now fully aware of the new regulations in width and power, power increased by 2bhp.  In 1981, further upgrades included, a rear window wiper, an electronic locking rear gate, and power brakes.
#########################
[ 

T h e   

F o u r t h   G e n e r a t i o n

 ]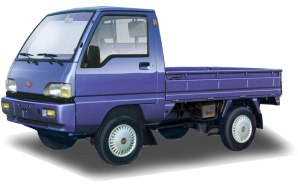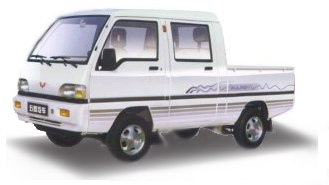 1982 – 1991
Minicab  Truck 4G
In 1982, the 4th Generation Minicab's ( U10 ) main changes included new rectangular headlamps along with larger windows to improve visibility.  A rear window wiper, electronic locking rear gate and power brakes were also adopted.  In 1983, the flat floor Van used a double walled construction, in order to offer a flat open cargo area.  Mitsubishi offered 15 front and 4wd van model variations and 10 truck variations.  In June 1984, the range was updated to the ( U11 ) series until November 1990, eventually reaching the ( U19 ) chassis code.  The 4th Generation Minicab incorporated many class leading features, such as automatic free-wheel hubs on all the 4WD models.  The 2WD variants had a turning circle of just 3.7 meters ( 12.1 ft ), and the estate models featured the first sliding roof in their class.  In 1987, the Minicab became the first manufacturer to offer a supercharged kei car.
#########################
[ 

T h e   

F i f t h   G e n e r a t i o n

 ]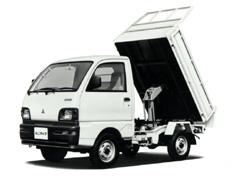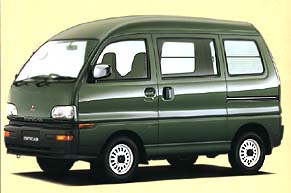 January
1991 – 1999
Minicab  Van
5G
In 1991, a larger and completely redesigned Minicab was released, in order to take account of the new regulations, which allowed increased dimensions and engine capacity.  Three new 660cc engines were introduced, a 4-valve SOHC unit, a 5-valve DOHC, and a 2-valve SOHC unit.  Across the model range, there were a possible 66 variations including a new retro-styled variant the "Bravo Route 66".  The high-roof truck was discontinued at  this time.
"The  Bravo  Route 66":  
#########################
[ T h e   

S i x t h   G e n e r a t i o n

 ]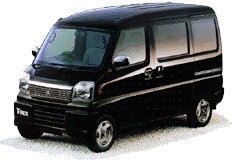 January
1999 – 2014
Minicab  Van 6G
The 6th Generation Minicab was introduced in 1999, now sporting a brand new semi-front design.  In April 1999 a Wagon version the "Town Box" was introduced, which was also rebadged as the "Nissan Clipper".  It was discontinued in November 2011 after 12 years of production.
The  Town  Box

:    Minicab  MiEV:  
In January 2011, Mitsubishi announced the launch of an electric version of the Minicab, the "Minicab MiEV" it was launched in December 2011 in the home market.  A truck version was also launched in January 2013.
#########################
[ T h e   

S e v e n t h   G e n e r a t i o n

 ]
2014 – 2015
Minicab 7G
The 7th Generation Minicabs are rebadged

Suzuki Carry's

and

Every's

.
#########################
[ T h e   

E i g h t h   G e n e r a t i o n

 ]
2015 ~
Minicab 8G
The 8th Generation Minicab is a rebadged
Suzuki Every

.

#########################

#########################
  The "Mitsubishi Minicab" in Computer Games:
1999 Mitsubishi Minicab in Blur ('10);  The Minicab in Absolute Drift ('15) : 
***** (終) *****