"Kei-Trucks & Vans"
***** (K|C|F) *****
Kei-Trucks 

(kei-tora) & Vans

Japanese kei-class trucks are known as 'kei-tora' (軽トラ) from 'kei' meaning 'light' and 'tora' a Japanification of the word 'truck'.  Most trucks currently being built use the 'cab over' or 'FC' (forward control) design which maximises on its load carrying capacity.  They can be either rear-wheel or 4-wheel drive. They cost as little as *¥1,000,000 (£6,400) or less !!
*The symbol '¥' for yen is not a Japanese character, but a Western symbol used to describe Yen currency.
Typical manufacturers and model names include – The Daihatsu Hijet;  Honda Acty;  Mazda / Autozam Scrum;  Mitsubishi Minicab;  Subaru Sambar and the Suzuki Carry.
Daihatsu Hijet:   Honda Acty: 
Mazda Scrum:   Mitsubishi Minicab: 
Nissan Clipper: 
Subaru Sambar:   Suzuki Carry: 
Many of these trucks are produced abroad under licence, such as 'Daewoo' (Korea) and 'Kia' (Asia) who re-badge the Suzuki Carry / Every.  The Daewoo Labo / Damas and the Kia Towner are re-badged Daihatsu Hijets.
A late

1960's

Subaru Sambar: 
The Suzuki Jimny classed as a truck: 
#########
Kei-trucks come in a wide variety of styles for just about every use imaginable, such as: Agriculture; Hunting, Fishing and Construction.  Body configurations are many including, Vans, Pickups and many specialist uses, here are a few . . .
Twin Cab: 
      Cherry-picker: 
      Tipper-truck: 
Motor-home: 
    VW Classic: 
   Sambar Classic: 
Fire-tender: 
   Pickup-truck: 
  Covered-wagon: 
Fire-engine: 
   Citroen Classic: 
Stretcher-bearer: 
Transporter: 
          Wagon: 
         Mobile-office: 
High-top: 
          Off-roader: 
          Gullwing!!: 
Refrigerated: 
    Mobile-shop: 
    Road-works: 
Wood-back: 
   Walk-thru' Van: 
Catapillar-track: 
Folding-side Flatbed: 
   Camping-car: 
Snow-crawler: 
 Panel Van:  
 Wheelchair-carrier: 
#########
Daihatsu 

     Atrai
The Daihatsu Atrai is a passenger car version of the Daihatsu Hijet.
#########
Daihatsu 

   Hijet
The Daihatsu Hijet is now in its 10th Generation.  In 2002 a hybrid concept car was debuted, but it never made it to production.
#########
  The 'Daihatsu Hijet' in Computer Games:
The Daihatsu Hijet in Road Blaster (Road Avenger) (1985): 
  '94 Hijet in Test Drive 4 (1997):
  Hijet in Test Drive 4 (1997):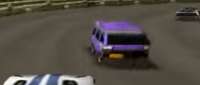 '94 Hijet Dump in Top Gear: Dare Devil (2000):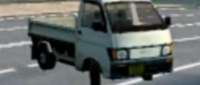 '88 Hijet Van And Pickup in The Getaway (2002):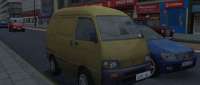 Hijet in Midnight Club II (2003):
  '91 Hijet in Poketto Monsutā Faiareddo Rīfugurīn (Pokémon FireRed and LeafGreen) (2004):
  Hijet Jumbo in Mad Monday (2008):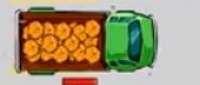 Hijet in Mirror's Edge (2008):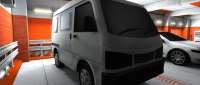 Hijet in Speed Rider (2009): 
  Hijet in Sonic & Sega All-Stars Racing (2010): 
  '91 Hijet in C-OPS (Critical Force) (2015): 
#########
Daihatsu  

    Midget II
The Daihatsu Midget II is available as a 1 or 2 seater with either a manual or automatic gearbox.  It has EFI (Electronic Fuel Injection) as an option as well as 4WD and air-conditioning.
#########
Honda  

    Acty
The 'Acty' in Honda Acty stands for 'Activity'.  It is now in its 4th Generation.
#########
Honda  

    Street
The Street is an upper trim level Honda Acty, intended mainly for passenger use.
#########
Mazda/Autozam  

    Scrum
The Mazda / Autozam Scrum, is a re-badged version of the Suzuki Carry.  It is available in 2 or 4-wheel drive.  The 4WD version can be switched between 2 and 4-wheel drive, and has high and low gears.
#########
  The 'Autozam Scrum' in Computer Games:
Tom Clancy's Ghost Recon: Future Soldier (2012):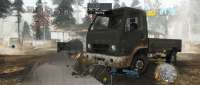 #########
Mitsubishi  

    Minicab
The Mitsubishi Minicab has been made since 1966 and is now in its 8th Generation.  In Japan it was originally only sold by a specific retail chain called 'Galant Shop'.  An all-electric model the Minicab MiEV has been on sale since December 2011.
#########
Nissan   

   Clipper
The Nissan Clipper is a badge engineered version of the Mitsubishi Minicab.  The Clipper name was originally used on the 1950's Prince range of trucks.  Following the merger with Nissan in 1966, the name then changed to Nissan Prince Clipper.  The name was resurrected in 2003 for Nissan's entry into the Kei-truck market.
#########
Subaru  

    Sambar
The Subaru Sambar introduced in 1961, is now in its 7th Generation.  'Shinroku Momose' (晋六百瀬) 1919 – 1997, designed the Subaru Sambar.  He was inducted into the Japan Automotive Hall of Fame in 2004.
#########
Suzuki      Carry
The Suzuki Carry went under the 'Suzulight' name for its first 2 generations, and is now in its 11th Generation.  The Suzuki Every, the van version, is now in its 5th Generation.
#########
Customising, Drift Racing & Tug-o-War Tests are popular with young people . . .
***** 終 *****