"The Aichi Company"
Spotlight on …
Aichi Machine Industry co.ltd (愛知 機械 工業 株式 会社) "aichi-kikai-kōgyō-kabushiki-kaisha"
In 1943, CONY (コ二―) cars were built by the Aichi Machine Industry Company in Nagoya.  The company was founded in 1943 and in 1965 it became part of the Nissan group.
1955 Cony AA-25F:
  1956 Cony AA27: 
Initial  production  was  of  3-wheeler  trucks:
The Cony AA27 has a 359cc 2-cylinder engine.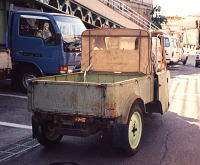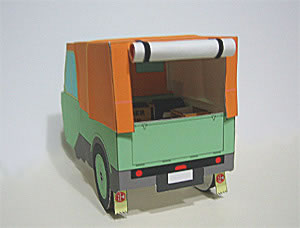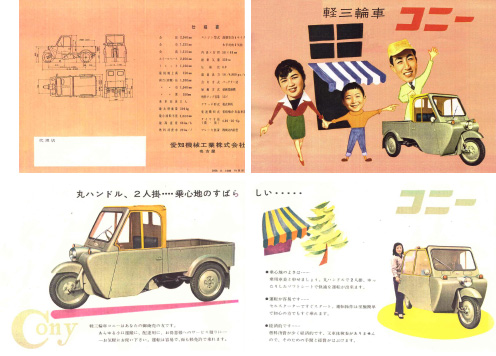 1961 Cony Guppy AE82:
The Cony Guppy first introduced in May 1961 is a small ultra light pick-up truck and is powered by a 199cc 11hp 2-stroke 1-cylinder engine with a kerb weight of 290 kgs (639 lb).  The engine is mid-mounted just behind and below the seats in a Rear Mid-engine, Rear-wheel drive (RMR) layout.  The Guppy has suicide doors and siren like lights on the B-pillars.  The brake lights are tiny and circular.
  (Note: lights on B-pillars)
Aichi claimed the fuel consumption was 30 kilometers/litre (70 mpg), with a top speed of 80.5 kph (50 mph).  The rear-wheel drive pickup had a kerb weight of 290 kg (639 lb) and could carry a load of 100 kilograms.  It had a low price of ¥225,000 (£1,633).  Other features included 4-wheel independent suspension and a torque converter for clutchless driving.   Production ended a little after one year, with less than 5,000 units being manufactured in total.
1962 Cony Guppy AE82 P/up: 
The Cony Super Guppy: 
 (コニ―スーパーグッピー)
1962 AF8 P/up: 
Author Tony Davis inducted the Guppy into his "Motoring Hall of Shame" in the book "Extra Lemon !!" (page 42).  He called the Guppy a lemon and a failure.
The Guppy pickup was used in the popular "Narutaru animation series" (Episode 1) 2003.
The Guppy Sports coupé is based on the Guppy pick-up and was made into a convertible by the Aichi Giant Co. dealers.
The Cony 360 AF3 Pickup is powered by a 354cc 18hp 2-cylinder engine.  It was available as a pick-up truck (360 wide), a 2-seater delivery van and also as a 4-seater "Coach" model.  It was also sold as the "Cony Giant " (静岡 ヂャイアント 株式会社) "shizuoka-gianto–kabushiki-kaisha" as in the poster (above).  The Shizuoka part is in reference to Shizuoka City in Shizuoka Prefecture, Japan.
 1960 Cony 360 AF3 Pickup: 
1961 Cony 360 AF11 Pickup Truck: 
Some of the cab-over trucks were made in left-hand drive form for export markets, mainly North America.
(1961 CONY  360  Wagon  &  Light  Vans)
In May, 1965 the Cony 360 Wide truck was introduced with a wheelbase of 168 cm, a rear rigid axle with leaf springs and an engine of 354 cc, placed underfloor in the centre.  A Van the AF11V was added in June, 1966.  The styling was quite modern though uninspiring, and the vehicle remained available until the early seventies.
The Cony 360 Truck and Light Van: 
The Cony Coach V: 
 (コニ―·コーチV)
The Cony 360 Coach: 
 (コニ―360コーチ)
The Aichi company is still in existance.  Management Philosophy : We pursue "human happiness" in harmony with society through "Monozukuri" related to automobiles which provide and meet customer satisfaction.
'Monozukuri' is about having a state of mind, the spirit to produce not only excellent products but also have the the ability to constantly improve the production system and its processes !!
History of  
1898 July : Established AICHI TOKEI MFG CO. LTD. as a clock maker in Nagoya.
1943 Feb: Separated aircraft manufacturing division of AICHI TOKEI MFG CO, incorporated into "Aichi Kokuki Co. Ltd."
1947 April: Started the production of the 3-wheeled vehicle "GIANT" and various engines.
1949 May: Newly established "Aichi Kigyo Co. Ltd." under the Company Resuscitation Law.
1952 December: Renamed "AICHI MACHINE INDUSTRY CO. LTD."
1959 November: Started the Production of the light-duty 4-wheeler "CONY 360."
1962November: Concluded a technical tie-up with Nissan Motor Co. Ltd.
1965 March: Concluded a business tie-up with Nissan Motor Co. Ltd.
*******************************************
******* (終) *******